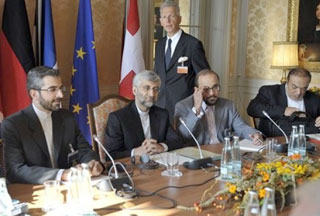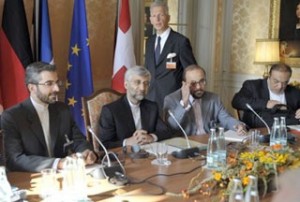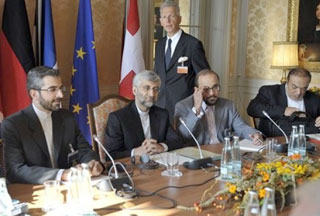 After holding wide-ranging discussions with Iran in Geneva on Thursday, France and Germany hail the talks as a first step and call for further steps.
German Foreign Ministry spokesman Andreas Peschke said on Friday that the six-side talks – which also included Britain, China, Russia and the US – with Iran were a "first step" in the right direction.
He, however, urged "practical steps" to be pursued.
"Yesterday's talks marked a first step that must now be followed by others," Peschke told reporters. "That means a continuation of talks this month, as agreed, as well as practical steps that show Iran's readiness to address the justified concerns of the international community."
"Longer term, it must be established that Iran is meeting its commitments with the international community," he said.
The talks came after Iran's announcement to the International Atomic Energy Agency (IAEA) that it was building a nuclear facility in Fordu, south of Tehran.
During the seven-and-a-half hour meeting between Iranian representatives and diplomats from the P5+1 states, they agreed on key issues including access of UN inspectors to the Fordu site as well as continuation of talks by the end of October.
French Foreign Ministry spokesman Bernard Valero said that the Geneva meeting was "a step in the right direction and its results will be judged on the basis of facts".
He, however, urged Iran to answer international demands and clear up suspicions about its nuclear program by December or face sanctions.
In a letter to the UN nuclear watchdog on September 21, Tehran announced the existence of the plant, some 12 months earlier than Iran's IAEA Safeguards Agreement obliges the country to inform the agency of new developments.
The announcement provoked an outcry from the US, Britain and France. Iran, however, says it is shocked by the reaction, arguing that it needs to be praised for informing the agency a year in advance.
Peschke pointed to an agreement reached in principle between Iran and the major world powers during the Geneva talks that would see some of Iran's stockpiled enriched uranium processed in Russia and France in order to fuel a UN-supervised reactor in Tehran.
He said the agreement was "an important element, a measure that, if it works, could contribute to rebuilding trust."