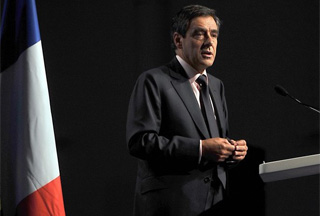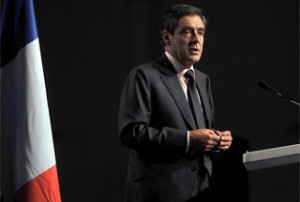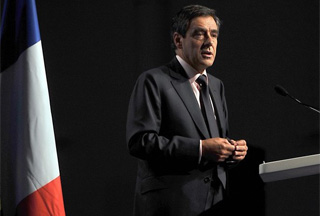 The French prime minister threatens Iran with more sanctions over its nuclear program even though a new round of 'constructive' talks between Tehran and the West has just begun.
All the countries are waiting for Iran's concrete action and the deadline is clear, but if Iran just keeps on delaying, there will be "no choice" but to impose stricter sanctions, Francois Fillon said during a speech at the France Military Academy in Paris.
"France is firmly determined to cooperate with European Union, the United States, Russia and China to solve the Iran nuclear issue", said the prime minister.
He added that Paris would fight proliferation of nuclear, chemical and biological weapons as they endanger peace and security in what he called a multi-polar world.
On October 1 in Geneva, Iran's top nuclear negotiator Saeed Jalili sat down with diplomats from six world powers, known as the P5+1 (permanent members of the Security Council plus Germany), to discuss a wide range of global issues.
Solana, who has represented the West in nuclear negotiations with Iran since 2003, was also present at the Geneva talks, which mainly revolved around Iran's latest package of proposals and other global concerns.
After the seven-and-a-half hour meeting, both sides described the discussions as constructive and agreed to resume the negotiations through October.
Unlike the previous meetings, representatives of the US, Britain, France, Russia, China and Germany did not repeat their earlier call on Iran to halt its nuclear activities.
The deadline that Fillon was referring to was a demand brought up by Washington after the meeting about Iran opening its new Fordo nuclear enrichment facility to IAEA inspections by the end of the month.
The US talked of a deadline while Iran had already volunteered to have the site inspected by UN nuclear watchdog inspectors, and stressed that the matter had nothing to do with the Geneva talks.
On October 4, the Director of International Atomic Energy Agency chief Mohamed ElBaradei announced that inspectors would visit the new plant in three weeks, based on arrangements made with Tehran.
Iran has described Geneva talks as a "national success" adding Western media hype over possible future sanctions against the country is aimed at downplaying Tehran's achievements in the talks.
"We achieved the outcome of Iran's resistance [to foreign pressure over its nuclear program] in Geneva talks," Iranian Foreign Ministry Spokesman Hassan Qashqavi said after the talks were held.