France warns of 'civil war' in Guinea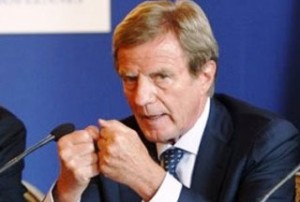 French Foreign Minister Bernard Kouchner has warned Guinea's coup leader Capt. Moussa Dadis Camara against returning to the West African country from Morocco, where he is receiving medical treatment.
"I hope that Mr. Dadis Camara stays in his bed in Morocco and does not return home as his return would be capable of triggering a civil war that we really don't need," Kouchner said, while addressing the French Parliament on Wednesday.
The French foreign minister's warning came on the first anniversary of Guinea's junta in power. The junta under Camara's command took control of the West African country a day after former president Lansana Conte passed away on December 22, 2008.
Capt. Camara is currently in a Moroccan hospital recuperating from gunshot wounds he sustained during an assassination attempt on December 3. He announced plans "to return to Conakry as quickly as possible," Mamadouba Diabate, Guinea's ambassador to Morocco, said on Tuesday.
Initially Camara said he would relieve power to an elected president. However, upon announcing that he would stand in elections scheduled for January, the country sank into chaos, with Guineans staging mass protests.
On September 28, 156 people were killed after Camara's guards opened fire on unarmed protesters who had gathered for a demonstration calling on Camara to step down.
A UN commission recently completed its investigation into the September 28 massacre, during which 109 girls and women were also raped and sexually mutilated.
The UN report made public on Monday found Camara, his former aid-de-camp and recent assassin Lieutenant Aboubacar "Toumba" Diakite as well as Guinea's anti-drug chief responsible for the carnage.
The European Union imposed harsher sanctions against Guinea by freezing the assets of Guinea's junta members and prohibiting European countries from the exporting equipment that could be used for state repression to Guinea.
In October, the EU approved of an arms embargo against Guinea and issued a travel ban for a number of Guineans.