Europe
Islam
Middle East
Palestine
Yemen
France's Macron 'a puppet in hands of Zionists,' says Houthi
The leader of Yemen's Houthi Ansarullah movement has strongly condemned Emmanuel Macron after he publicly defended publication of derogatory cartoons depicting the Prophet Muhammad (PBUH), saying the French president is "a puppet in the hands of Zionists."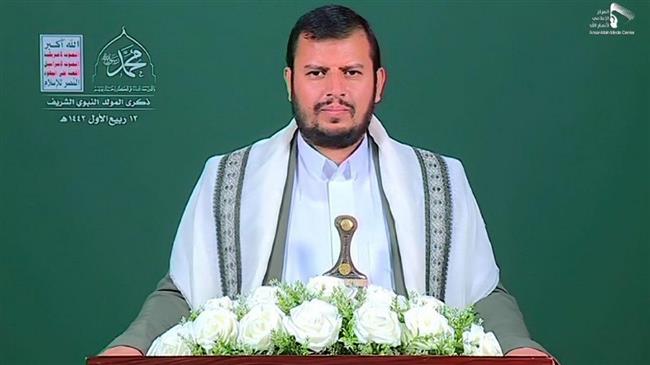 "Emmanuel Macron is just a puppet in the hands of Zionists. They pushed the French president into insulting Islam and the Messenger of God," Abdul-Malik al-Houthi said at a televised speech broadcast live from the Yemeni capital of Sana'a on Thursday evening as thousands of people were celebrating the birth anniversary of the prophet across the country.
He added, "Western states and media outlets, which permit insults to God and the divine prophets but forbid exposition of Zionists' conspiracies, are dominated by … Zionist lobbyists."
The Ansarullah leader then termed deviations from divine messages and teachings as the root cause of all grave problems of the Muslim world and the international community, stressing that such approaches will have irreparable consequences.
Elsewhere in his remarks, Houthi reiterated his rejection of normalization of ties with Israel, denouncing the move as betrayal and partnership with the enemies of Islam.
"While the Saudi regime has opened the gates of the Two Holy Mosques to Zionists, it is enforcing a blockade on Yemeni people and continuing its attacks at the same time. It has also imprisoned Palestinian expatriates simply because of their stance against the Zionist enemy," the Ansarullah chief pointed out.
Houthi also called the Israeli regime a threat to the Muslim world and the stability and security of the Middle East region.
He said Saudi Arabia, the United Arab Emirates, Bahrain and Sudan are partners in US-Israeli conspiracies against the Muslim world.
The Ansarullah leader then described resistance against the Saudi-led coalition waging a devastating military onslaught against Yemen as a religious and national obligation, and called on all Yemeni groups and forces to confront enemies' psychological operations and misinformation campaign.
Saudi Arabia and a number of its regional allies launched the war on Yemen in March 2015, with the goal of bringing the government of former president Abd Rabbuh Mansur Hadi back to power and crushing the popular Houthi Ansarullah movement.
The US-based Armed Conflict Location and Event Data Project (ACLED), a nonprofit conflict-research organization, estimates that the war has claimed more than 100,000 lives over the past five years.
The popular Houthi Ansarullah movement, backed by armed forces, has been defending Yemen against the Saudi-led alliance, preventing the aggressors from fulfilling the objectives of the devastating war.