Europe
French police, anti-labor reform protesters clash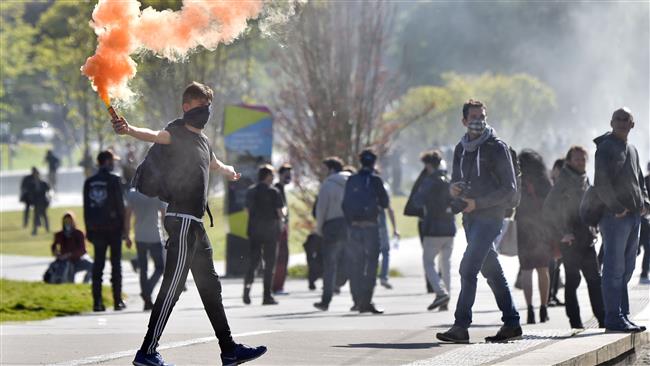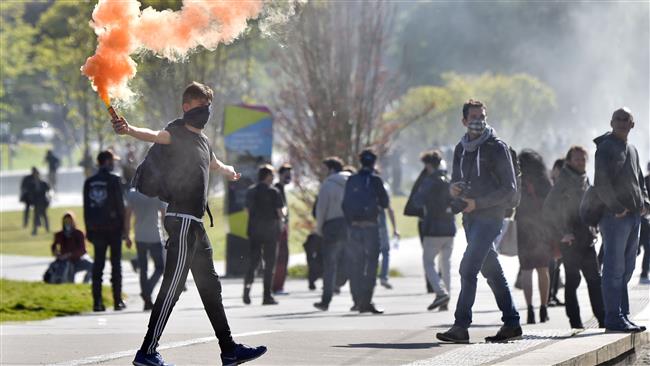 Fresh skirmishes have erupted between French riot police and hundreds of demonstrators protesting against a controversial legislation proposed by the ruling center-right coalition government. 
On Tuesday, hundreds of protesters took to the streets in the western French city of Nantes in opposition to the controversial labor reforms commonly referred to as the "El Khomri law" after French Labor Minister Myriam El Khomri.
The protesters shouted slogans in condemnation of proposed labor reforms as they made their way through the city. They also carried a banner reading "General Strike."
The protesters set rubbish bins on fire, and many hurled projectiles at police. Security forces fired tear gas canisters as well as stun grenades in return, and arrested a number of people to break up the demonstration.
Some protesters even tried to shatter restaurant and shop windows, as well as Mupi light boxes.
One police officer was reportedly injured with an iron bar.
On April 28, protests were reported in the capital, Paris, and elsewhere across France.
Workers burned tires on roads to halt traffic while Orly airport, France's second-largest, was ordered to scrap 20 percent of flights.
The situation at the larger Charles de Gaulle airport was normal as traffic was almost unaffected by the rallies north of the capital. One policeman was injured in clashes in Paris.
Police fired tear gas at protesters in Nantes, where a group of students and rockers reportedly threw stones, paint and smoke bombs at security forces.
Hundreds of people also staged a protest in the northern port of Le Havre, where access to routes into the city was blocked by barricades of burning tires.
The French government says the proposed labor reforms focus on maximum working hours, holidays as well as breaks, and are aimed at curbing the country's unemployment rate, which President Francois Hollande is trying to lower below 10 percent.
Protesters and workers' unions, however, say the government wants to make it easier and less costly for employers to lay off workers.