Europe
Human Rights
French police fire tear gas as thousands protest against new coronavirus rules
French police officers have fired tear gas to disperse demonstrators who took to the streets of the capital, Paris, to protest against the new coronavirus restrictions, as the country looks to avoid a surge in more cases with the spread of the highly contagious delta variant.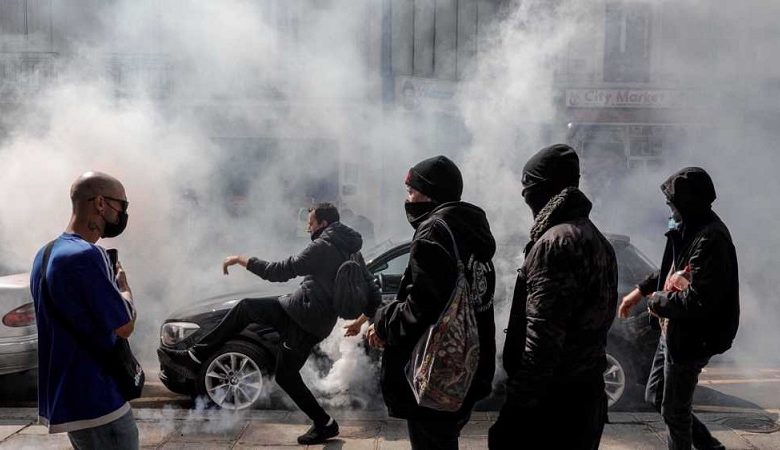 More than 19,000 people, many of them skeptical of vaccines, staged nationwide rallies throughout France on Wednesday, after President Emmanuel Macron mandated a vaccine health pass for most public places.
In Paris, some 2,250 people marched through the streets, chanting "down with the dictatorship" and "down with the health pass."
The protests were held as the annual military parade for the traditional Bastille Day parade, watched by Macron, was taking place along the famous Champs-Elysees avenue.
Police fired tear gas in an area of the French capital, saying that the declared protest route was not respected and the demonstrators threw projectiles and lit fires.
"Macron plays on fears, it's revolting. I know people who will now get vaccinated just so that they can take their children to the movies, not to protect others from serious forms of COVID," he said.
Other demonstrations were also held in Toulouse, Bordeaux, Montpelier, Nantes and elsewhere. The French Interior Ministry said that there were altogether 53 different protests throughout the country.
In a speech on Monday, Macron threatened citizens that they will face restrictions if not vaccinated against COVID-19.
He mandated special COVID-19 passes for anyone who wants to go to a restaurant, shopping mall or hospital or get on a train or plane. To get a pass, people must have proof they are fully vaccinated, have recently recovered from the virus or can provide a recent negative virus test result.