Europe
French police razes Roma encampment near Paris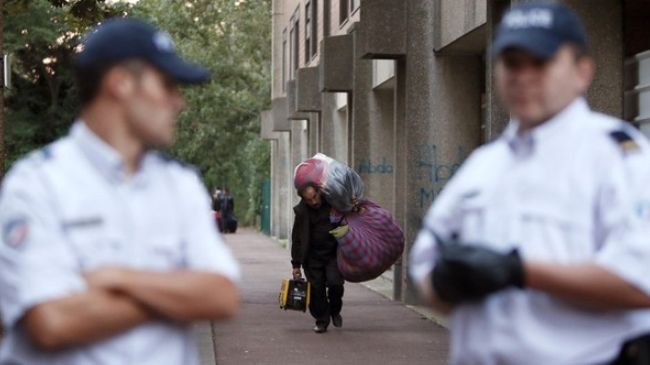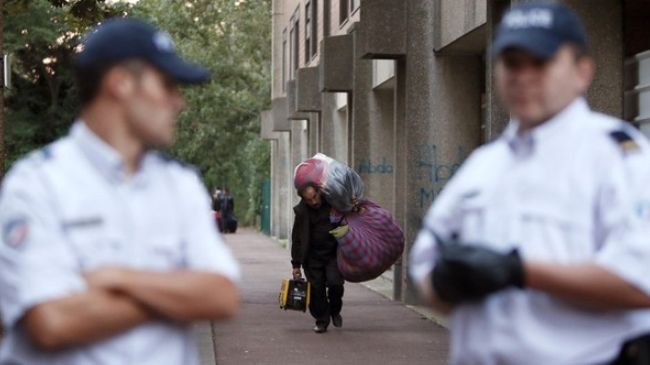 French police forces have dismantled a Roma encampment near the capital Paris, and evicted dozens of people onto the street in the latest of a series of raids that have been criticized by human rights groups.
Police in the town of Evry, located 30 kilometers (18.6 miles) south of Paris, swooped down upon the camp of makeshift huts at dawn on Monday, and dismantled the settlement in the wake of a municipal decree, AFP reported.
Local mayor Francis Chouat has earlier issued an expulsion order on safety and public health grounds. He had said the camp was deemed unsafe as it was located on spare land close to a commuter rail line.
The camp run-down left 70 people, including 19 children, homeless. Television images showed families, including a number of young children, carting bags of possessions as they left the area.
However, Interior Minister Manuel Valls, who has been severely criticized for sanctioning the clearance of several Roma camps, defended the evictions.
Valls told Europe 1 radio that he could not tolerate "these slums, these camps, where people live in absolutely intolerable conditions."
The raid comes days after the French government promised to adopt a more humane approach to the Roma community, and ease restrictions on Bulgarian and Romanian migrants' access to the jobs market.
Human rights groups have accused French President Francois Hollande of taking the same harsh tack as his center-right predecessor Nicolas Sarkozy.
Sarkozy sparked an international outcry in 2010 with a highly publicized campaign of Roma expulsions.
An estimated 15,000 ethnic Roma, mostly originating from Bulgaria and Romania, currently live in makeshift camps across France.