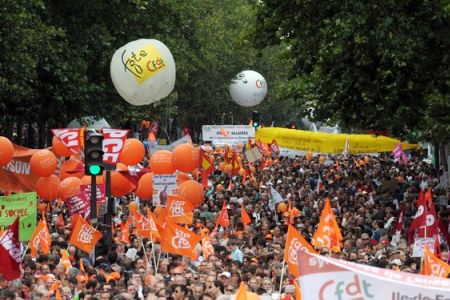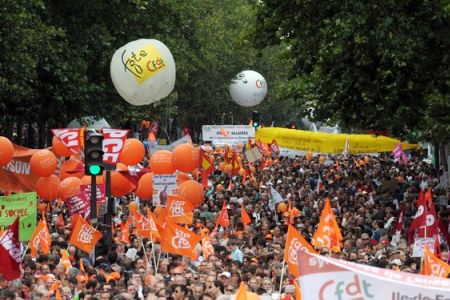 The French have taken to the streets to protest against President Nicolas Sarkozy's planned pension reform law, as the parliament is getting near to a vote.
Hundreds of demonstrators gathered on the Place de la Concorde, across the Seine River on Wednesday, urging lawmakers in the French lower house to dismantle the reform plan.
An overnight parliament session ended on Wednesday in a shouting match with Assembly President Bernard Accoyer blaming the opposition for "obstruction" and attempting to stall debate on the bill.
"I will not allow the use of petty maneuvers to obstruct our parliament in a paralyzing and deprecating way," said Bernard Accoyer, a member of Sarkozy's right-wing UMP party, as Socialist deputies cried, "Resign!" reported AFP.
Despite the opposition by the Socialists, government remains optimistic about the passage of the proposed pension reform plan that envisages an increase in retirement age by two years.
If cleared by the lower chamber of the parliament, the controversial bill will head to the upper house, the Senate, on September 23, when the unions have called another one-day general strike.
A national strike last week almost paralyzed the European country for one day, affecting trains, planes, and the postal system.
At least 1.1 million people turned out in 220 French cities to protest at the reforms.
Despite the protests, President Sarkozy and his right-wing government remain determined to push for the reforms which they claim are needed to shrink the country's hiking budget deficit.