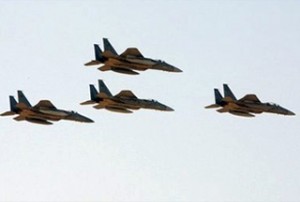 Several people have reportedly been killed in a series of airstrikes by unknown warplanes in the northern Yemeni region of Sa'ada.
The residence of the mayor of Sa'ada was damaged in the air raid.
Yemen's Houthi fighters accuse the United States and neighboring Saudi Arabia of carrying out airstrikes, saying the attacks target only civilians in villages in the northern regions of the country.
They also say they have foiled several attempts by the Saudi ground troops who wanted to penetrate into northern Yemen over the past weeks.
Human rights groups and international aid agencies have repeatedly warned about what they have described as the dire humanitarian situation in northern Yemen.
The Yemeni army launched Operation Scorched Earth against the Houthis in August in a bid to quell the fighters who accuse the Sunni-dominated Sana'a government of repression and discrimination against the country's Shia minority.
Saudi Arabia joined the offensive following alleged conflicts with Houthi fighters near its border with Yemen, pressing heavy artillery attacks and air raids against the fighters.
At least 120 Houthis were killed and 44 others sustained injuries on Wednesday as the US fighter jets took part in airstrikes in Sa'ada.
The US military is reportedly going ahead with air raids on Sa'ada as well as the northern regions of Amran and Hajjah which have already been the target of stepped up attacks by the Saudi and Yemeni forces.
The UN High Commissioner for Refugees estimates up to 175,000 people have been forced to leave their homes in Sa'ada during off and on conflicts between the army and the Houthis since 2004.