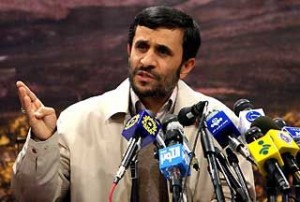 Amid a US-led push for fresh UN Security Council (UNSC) sanctions against Iran, Iranian President Mahmoud Ahmadinejad says the move will only result in the council losing more of its credibility.
Speaking in an interview with Turkey's Channel 24 on Wednesday, President Ahmadinejad described a decision by the UNSC to impose fresh sanctions on Iran as illogical, adding that it comes in violation of the Iranian nation's inalienable rights.
The Iranian president said the international body would only damage its reputation and put an end to its own existence through such measures.
"If under pressure and driven by double standard policies they put [sanctions resolutions against Iran] in writing on a piece of paper, this [paper] will be of no value," President Ahmadinejad added.
The remarks come as Washington stepped up its push for new sanctions against Tehran, only one day after a joint nuclear declaration by Iran, Turkey and Brazil paved the way for a major step forward in resolving the longstanding nuclear issue.
Commenting on the Tehran nuclear fuel swap declaration, President Ahmadinejad said the statement went beyond Iran's nuclear issue as it is an objection to the status quo, injustice, discrimination and bullying which prevent the nations from achieving their rights.
Based on the declaration, Iran agreed to send some 1,200 kg of its low-enriched uranium to Turkey in exchange for a total of 120 kg of higher enriched uranium for use at its Tehran Research Reactor.
The UNSC has imposed three rounds of sanctions resolutions against Iran over its nuclear work.
This is while, the IAEA in all of its reports on the Iranian nuclear program has stated that "the Agency continues to verify the non-diversion of declared nuclear material in Iran."
As a result, Tehran rejects the logic behind such punitive measures, arguing that the IAEA — the only authorized body to verify its nuclear work — has found no evidence suggesting that Iran is pursuing military objectives in its nuclear program.