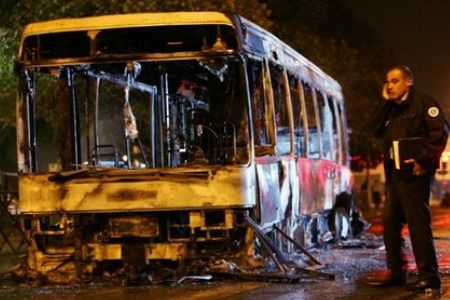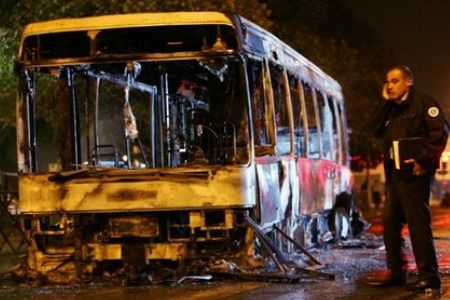 Rioters have torched a bus and hijacked a number of vehicles as serious disturbances rocked near Belfast in Northern Ireland.
Police said Monday night disturbances involving at least 400 rioters in the loyalist Rathcoole estate in Newtownabbey caused up to £200,000 worth of damage, the daily Belfast Telegraph reported.
Youths threw stones at the approaching police vehicles who had come to the scene to restore order, according to the report.
It is the latest outbreak of trouble in east Antrim following serious disorder in Carrickfergus and Ballyclare two weeks ago.
Alderman Paula Bradley, the mayor of Newtownabbey, condemned the rioting.
"This violence is an absolute disgrace," she said. "We are in a time of cutbacks and yet you have people going out burning cars and buses. A minority of people are causing havoc and it's the whole community who suffers."
Bradley said the trouble may be linked to police activity in the area earlier this month.
Two weeks ago, loyalist paramilitaries caused a night of violence in the area which left two officers injured. A female officer was hurt in Carrickfergus when her vehicle was attacked by a gang of up to 25 men wielding bats.
There was also trouble in Eden where youths blocked the road.
A PSNI spokesman said: "Police will continue to investigate the incidents and identify those involved."
Meanwhile, Unite union representative Michael Dornan threatened to end the bus services in Newtownabbey after the driver of the torched bus suffered serious facial injuries.
"It was a sinister, callous and brutal attack, carried out on a person carrying out his work. These people boarded the bus and poured petrol inside. They then trailed him off the bus and beat him," he told the daily.
"The driver has sustained a facial injury during the attack and we have to warn the general public that we will not allow our members' safety to be compromised during civil unrest," he added.