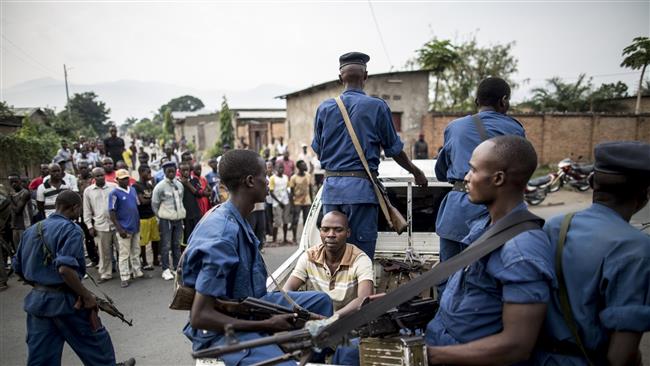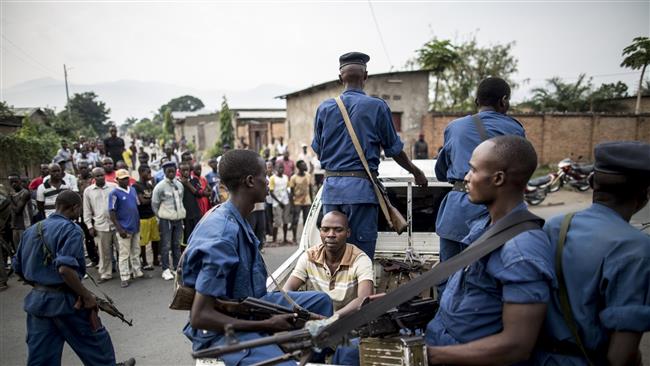 A fresh wave of violence has claimed the lives of at least three people across Burundi following weeks of protests over President Pierre Nkurunziza's controversial bid to run for a third term in office.
Witnesses said the people were killed in separate incidents across Burundi overnight Saturday.
Sources said one person was shot dead while another was killed in a grenade blast. A military trooper was also accidentally killed by a comrade during a security raid on a house.
There is as yet no reports regarding the identity of dead persons or the exact location of the incidents.
The fresh wave of violence comes a day before key polls in the central African nation. Parliamentary and local elections are planned for Monday, ahead of a presidential vote on July 15 in the violence-wracked country.
Criticizing the timetable for the polls set by the electoral commission, the opposition parties have said that they would not take part in the upcoming elections until conditions for "peaceful, transparent and inclusive" polls are met.
Meanwhile, civil society groups have backed the boycott and urged voters to skip the "sham elections." They have also called on the international community "not to recognize the validity" of the elections.
UN Secretary General Ban Ki-moon has also called for the elections to be postponed.
However, Burundi's ambassador to the United Nations (UN) Albert Shingiro said on Friday that the country's upcoming polls will go ahead as scheduled.
The central African nation plunged into political turmoil in late April, when President Nkurunziza announced a decision to run for a third consecutive five-year term.
The opposition has branded the bid as unconstitutional and in violation of a 2006 peace deal that ended 13 years of civil war.
The chaotic situation was exacerbated in the country after Major General Godefroid Niyombare, a former intelligence chief, launched a failed coup attempt in May.
At least 80 people have been killed, 500 wounded and more than 1,000 jailed in Burundi since late April. More than 127,000 people have also fled the violence to neighboring states.