Syria
Full battle report of the Syrian War: map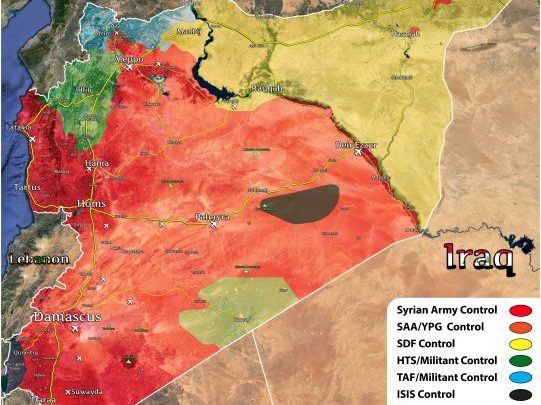 The Syrian War has reached an important in the Summer of 2019 as the Syrian Arab Army (SAA) attempts to capture the last provincial stronghold of the jihadist rebels.
At the start of June, the Syrian Arab Army scored an important advance that helped them establish their first presence at the Al-Zawiya Mountains since 2014.
In response to this offensive, the jihadist rebels of Hay'at Tahrir Al-Sham launched a surprise offensive to cut the Syrian Arab Army's main supply line between the two Christian towns of Mhardeh and Sqaylabiyeh.
Since the jihadist rebels cut the road between these two towns, the Syrian Arab Army has been attempting to recapture the hilltop of Tal Malah, which overlooks these government strongholds.
Meanwhile, at the Kabani front in northeastern Latakia, the Syrian Arab Army has been trying to seize this strategic town from the jihadist rebels.
However, despite their repeated attempts to capture Kabani, the Syrian Arab Army has been unable to achieve any major advance at this mountain fortress.
In southern Syria, the Syrian intelligence forces have had their hands full with the Free Syrian Army (FSA) sleeper cells that are wreaking havoc on the Daraa Governorate.
The FSA sleeper cells have killed over ten officers this month, prompting the Syrian military to send reinforcements to Daraa to prevent any more ambushes.
In the eastern part of the country, both the Syrian Arab Army and Syrian Democratic Forces (SDF) have been working to clear the last areas under the Islamic State's (ISIS/ISIL/IS/Daesh) control.
Both the SDF and SAA have been forced to deal with the terrorist group's constant ambushes and terrorist attacks in the Euphrates River Valley and Badiya Al-Sham region.