Syria
Funeral Ceremony Held for Sheikh Aql with Minister's Azzam Participation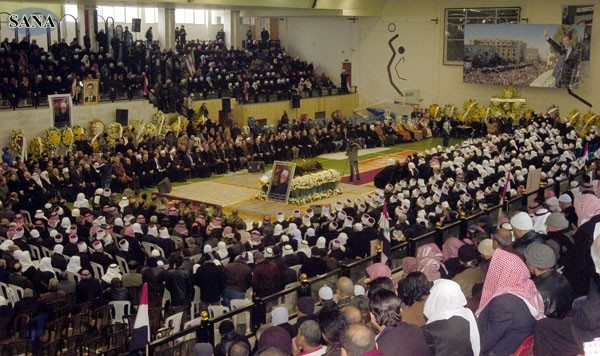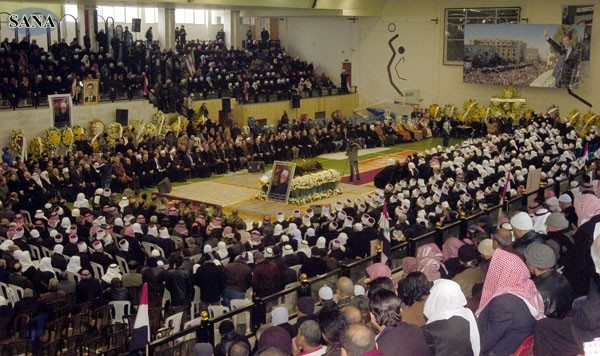 Amid a popular and official participation, Sheikh Aql (leader) of the Muslim Muwahhideen community in Syria, sheikh Hussein Jarbou', was escorted to his final resting place in Sweida on Friday.
Upon the directives of President Bashar al-Assad, Minister of Presidential Affairs, Mansour Azzam, took part in the funeral ceremony and offered condolences to the family of late sheikh Jarbou', who died last Wednesday after suffering from disease.
In a speech during the ceremony, Syria's Grand Mufti Sheikh Ahmad Badr Eddin Hassoun, highlighted the virtues of Sheikh Jarbou', stressing that all religious leaders should work for the good of all mankind, especially at this stage when the enemies of the nation seek to ignite confessional and sectarian sedition.
He said "Don't be worried about Syria because it is blessed by the prayers of the prophets and guarded by their light."
Sheikh Hassoun said "We call upon all people who lift Syria, thinking that they will bring dignity and freedom to it, to head back to it as Syria welcomes all of its sons."
In turn, Greek Orthodox Patriarchal Assistant, Bishop Luca al- Khouri made a speech on behalf of Greek Orthodox Patriarch of Antioch and the East Youhanna X Yazji and Metropolitan Saba Esber, locum tenens of the Patriarchate.
Patriarch al-Khouri pointed out to the amity and co-existence among Muslims and Christians in Syria, stressing the ability of the homeland to overcome the conspiracy by the will and unity of the Syrians.
Sweida Governor Atef Naddaf, said that Sheikh Jarbou' was keen on the unity of the Syrians and believed that Syria will win by the resolve of the Syrian people and the leadership of president Bashar al-Assad.
Sheikh Jarbou' was born in 1925. He became the Sheikh Aql of the Muwahhideen Sheikhdom in 1965, succeeding his father sheikh Ahmad Jarbou'. He left behind three sons and seven daughters.