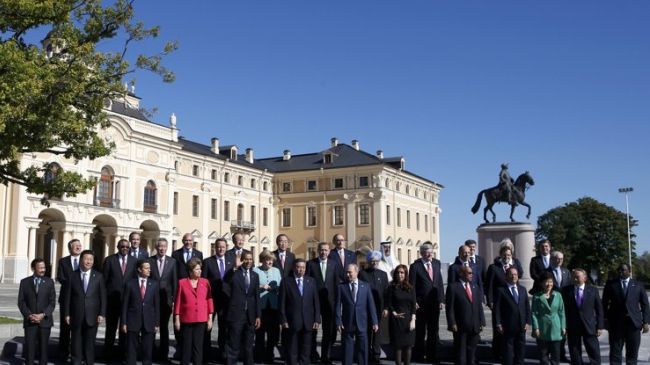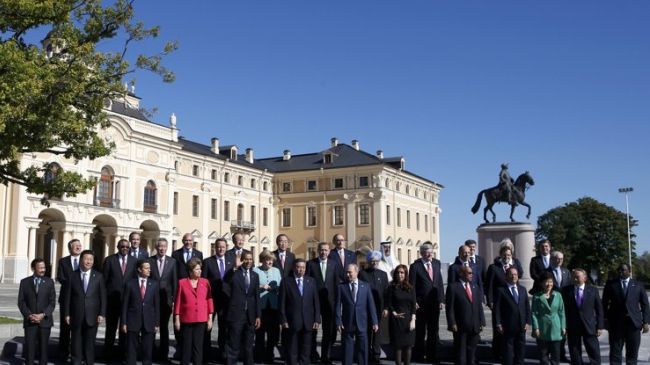 World leaders have ended the G20 summit in Russia, while remaining deeply divided on Syria with the United States pushing for a military strike against the country.
At the end of the two-day summit of the Group of Twenty developed and developing economies in St. Petersburg on Friday, Putin said that Russia and a great majority of the world leaders who attended the summit opposed a unilateral military offensive against Syria.
"I can tell you who favored military action. It is the US, Turkey, Canada, Saudi Arabia and France, while the British prime minister's support for the US was not shared by his citizens," Putin said. "Now, who were categorically against: Russia, China, India, Indonesia, Argentina, Brazil, South Africa and Italy."
Last week, the British parliament voted against military intervention in the Arab state despite calls by Prime Minister David Cameron.
Elsewhere in his remarks, Putin said that Moscow will help Syria if it comes under attack.
"Will we help Syria? We will. We are already helping, we're sending arms [and] cooperating in the economic sphere," Putin stated.
Meanwhile, US President Barack Obama defied pressure on Friday to abandon plans for a war against Syria and claimed that he gained the support of nine G20 leaders for a "strong" response to a chemical weapons attack that allegedly killed hundreds of people in the suburbs of Damascus last month.
Ten G20 countries, including the US, plus Spain have reportedly signed a statement demanding a strong international response, which fell short of backing a military offensive against Syria.
Obama held a 20-minute one-on-one meeting with Putin on the sidelines of the summit on Friday, following an intense group debate on the Syrian crisis over dinner on Thursday night.
"We hear one another, and understand the arguments but we don't agree. I don't agree with his arguments, he doesn't agree with mine," the Russian president stated at a closing news conference in St. Petersburg.
The war rhetoric against Syria intensified after foreign-backed opposition forces accused the government of President Bashar al-Assad of launching the chemical attack on militant strongholds in the suburbs of Damascus on August 21.
Damascus has vehemently denied the accusations, saying the attack was carried out by the militants themselves as a false-flag operation.
Putin said the US had not offered convincing evidence that the Syrian troops were involved in the attack and called it a "provocation" by the militants hoping to provoke Washington to strike Syria.
During talks on Friday with Obama, Chinese President Xi Jinping also called on the US leader not to launch a military strike against Syria, saying that Beijing expected nations to think twice before acting.
Also on Friday, United Nations Secretary General Ban Ki-moon again warned against a military offensive without the backing of the UN Security Council.
On August 31, Obama said he has decided that Washington must take military action against the Syrian government, which would mean a unilateral military strike without a UN mandate.
Obama said that despite having made up his mind, he will take the case to US Congress. But he added that he is prepared to order military action against the Syrian government at any time.
On August 29, a meeting of the Security Council's permanent members ended without reaching an agreement on Syria.
The Western members of the council have been pushing for a resolution on the use of force while Russia and China are strongly opposed to any attack on Syria.
Since March 2011, Russia and China have vetoed three UN Security Council resolutions proposed by European states threatening military action and sanctions against Damascus.
The two countries are also opposing the current push by the United States to launch a war on Syria, vowing to veto any resolution that paves the way for the military action.