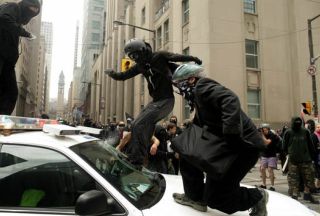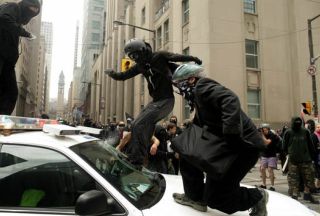 The Toronto police department has released a top ten most wanted list with the aim of charging protesters who torched police cars and smashed shops during the June 26-27 G20 summit.
At a news conference on Wednesday afternoon, Det.-Sgt. Gary Giroux said police have already rounded up three protesters whose photos were released by police last week. One of the suspects turned himself in and appeared at a bail hearing Wednesday morning, the National Post reported on July 14.
In the pictures released Wednesday, the full faces of some suspects are visible, while others are shown running toward cameras wearing bandannas over their noses and mouths. They are mainly sought for suspected involvement in arson and mischief.
Another man with a covered face is shown holding a bag of rocks he allegedly used to break glass throughout the downtown core, contributing to $300,000 in property damage to Starbucks, Tim Hortons, and other businesses.
Using facial recognition software, members of the investigative team are still sifting through 14,000 still photos and 500 videos. Giroux encouraged members of the public to send in more.
One man is wanted for standing on top of a police cruiser and kicking out its windows with rollerblades.
Protesters are now showing up in stealthier gear, synthetic shielding and helmets to challenge riot police.
Pundits have noted that G20 summit meetings have become pretexts for anti-globalization activists to hold demonstrations.
Others have observed that although a number of the demonstrations have become violent, usually, just a small segment or segments of the demonstrators are doing all the violence.
In addition, some activists have also said agents provocateurs are behind much of the violence at these demonstrations.