World News
Gabon arrests up to 1,100 people in post-election chaos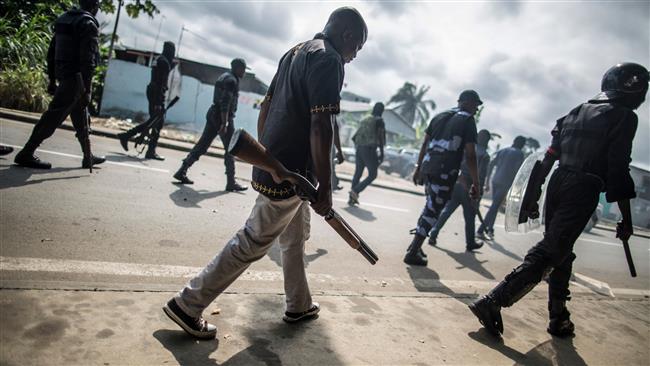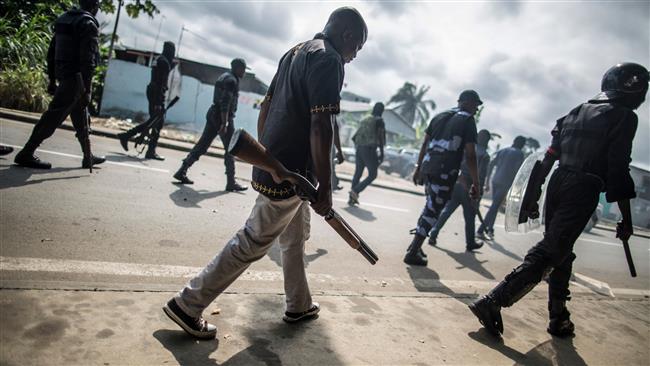 Authorities in Gabon have arrested up to 1,100 people over two days of violence that erupted amid post-election tensions in the West African country.
Interior Minister Pacome Moubelet Boubeya told a news conference on Thursday that between 600 and 800 people had been arrested in the capital, Libreville, while 200 to 300 arrests were made elsewhere in Gabon.
The minister said that protesters had used grenades and police had seized AK-47 assault rifles.
Chaos hit the country shortly after election officials declared on Wednesday that incumbent President Ali Bongo had won the presidential race.
Media agencies, citing witnesses and a police source, reported public disobedience in at least nine different suburbs of Libreville attributed to opposition forces.
Supporters of opposition leader Jean Ping set fire to the National Assembly while chanting "Ali must go."
Security forces also raided the opposition headquarters in the capital, injuring several people there.
The opposition leader said two people had been killed and 19 others were injured in the police crackdown.
Earlier, the office of Bongo accused Ping's camp of planning "coordinated attacks on symbols of the state."
"These were not protests but coordinated acts intended to incite fear amongst the citizens who voted the 'wrong' way," the statement said.
Ping has called the election fraudulent, arguing that he is the true winner of the presidential contest.
Meanwhile, United Nations Secretary General Ban Ki-moon has called on the nation to be calm.
The European Union and Western countries, including the US and France, have also urged calm and called on authorities in the former French colony to show more transparency about the election results.
Out of a total of 627,805 votes, Bongo gained 49.80 percent of Saturday's vote against 48.23 percent for Ping.
Bongo, who came to power in 2009, will now remain at the helm for a second 7-year term if the results are approved by the country's constitutional court.
Ali Bongo, 57, succeeded his father Omar Bongo who had come to power in 1967 and passed away in 2009.
Ping, who is 73, had been a close ally of Omar Bongo.