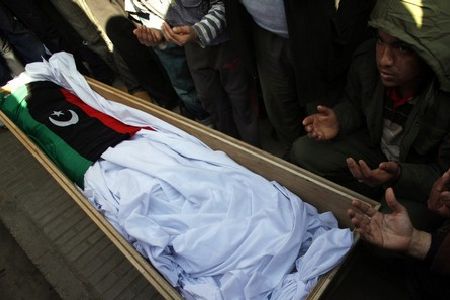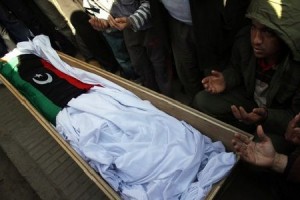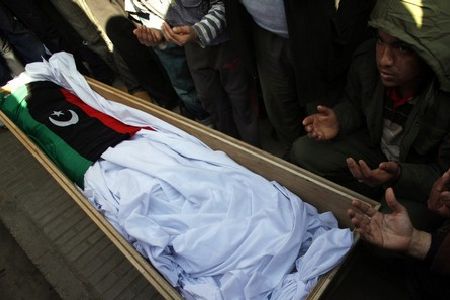 Forces loyal to long-time Libyan ruler Muammar Gaddafi have reportedly intensified their attacks on opposition-held cities, killing civilians.
Media reports said on Tuesday that the Gaddafi forces launched a deadly offensive in the town of Yafran, southwest of the capital, Tripoli.
Nine people have reportedly been killed and many others injured in Yafran.
Elsewhere, the Gaddafi forces bombed the western town of Zintan. Residents and witnesses say at least ten people were killed in the bombardment.
Meanwhile, the opposition-held cities of Ajdabiyah and Misratah are still under siege, and civilians are still being killed.
At least 40 civilians, including four children, have been killed in heavy shelling over there in the past 24 hours.
"Snipers are taking part in the operation too. A civilian car was destroyed, killing four children on board, the oldest is aged 13 years," Reuters quoted Misratah's residents as saying.
"The situation here is very bad. Tanks started shelling the town this morning."
The developments come as the US-led coalition has bombarded Libya for the past three days.
They say they are targeting Gaddafi's air and ground forces, but civilian casualties have been reported.
The Arab League has recently said the military intervention in Libya differs from a UN resolution that authorizes imposing a no-fly zone over the country.
"What is happening in Libya differs from the aim of imposing a no-fly zone, and what we want is the protection of civilians and not the bombardment of more civilians," Arab League Secretary General Amr Moussa said on Sunday.
Meanwhile, Russia has called for immediate ceasefire and start of political talks in Libya.
Russian Defense Minister Anatoly Serdyukov told visiting US Defense Secretary Robert Gates that Moscow believes Libyan civilians have been killed in the US-led airstrikes.
Serdyukov said on Tuesday that civilian deaths "shouldn't have been let to happen and we informed our US counterparts of our opposition."