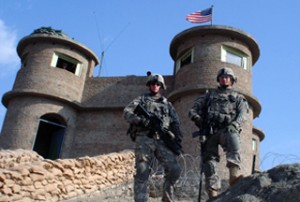 The defense secretary of the United States has not yet decided whether to send additional troops to Afghanistan ahead of his meeting with NATO defense ministers.
"I am moving into my personal decision phase," Robert Gates said before the meeting in the Slovak capital of Bratislava that will be held on Thursday and Friday.
"I will probably share with the president and my colleagues in the American government where I come out on this issue before I share it with 27 defense ministers," he said.
Gates added that discussions at the NATO meeting would likely include how to expand the size and training of the Afghan national army and police.
The White House is considering plans to send extra forces to the war-ravaged country after US and NATO commander in Afghanistan Gen. Stanley McChrystal requested for tens of thousands of more troops.
Despite the presence of over 100,000 US and NATO 'boots on the ground', the escalated militancy has made the current year the deadliest yet for foreign forces, as well as for Afghan civilians.
US President Barack Obama said Wednesday that he might not announce his decision on sending more troops until after the outcome of an Afghan election run-off on November 7.
Under intense US pressure, Afghan President Hamid Karzai agreed on Tuesday to a second round of vote after the August election was marred by massive fraud that led to the discarding of a third of the results.
Karzai will compete with his main rival, former foreign minister Abdullah Abdullah, for the upcoming run-off.
"Everybody has an interest in making sure there are as few problems with this run-off election as possible in terms of providing legitimacy for the wining candidate," Gates said.