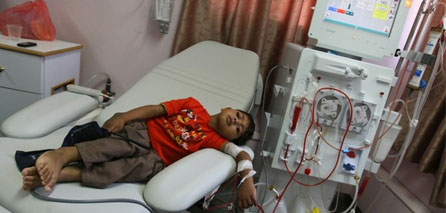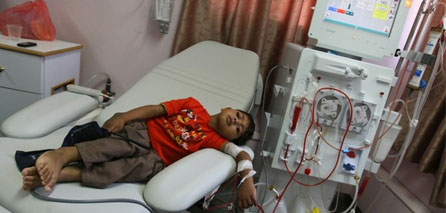 Hospitals in the Gaza Strip declare a state of emergency as Gaza's main power plant was closed down Saturday night due to a shortage of industrial diesel fuel.
Power cuts have increased from eight hours to 12 hours per day and have severely affected childrens' hospitals, maternity departments, kidney departments, babies' nursery and intensive care units, Gaza emergency chief, Mo'aweya Hassanein, said on Sunday.
Increase in the hours of power cutoff "would lead to a humanitarian crisis and a deterioration of medical services," German news agency dpa quoted him as saying on Sunday.
The plant's closure, the third time this year, has caused chaos as hospitals had to use generators to maintain life-saving equipment.
The closure has also caused power cut to more than 700,000 people in the Gaza city, Kan'an Obied, the chairman of the Hamas' energy authority, confirmed.
Hassanein also warned that if generators are not reactivated, dozens would die.
Meanwhile, the Palestinian Authority (PA) spokesman, Ghassan Khatib, said on Sunday that the PA is not responsible for the closure of Gaza's power plant, adding that the PA has paid 90 percent of its power bill amounting to almost $12 million, Maan news agency reported.
The Gaza Power Authority blamed the Ramallah government for the shutdown, saying it failed to make fuel payments to Israel.
In turn, Ramallah officials said the power authority had neglected to transfer cash to the PA to pay for the fuel.