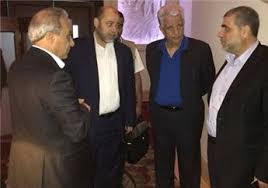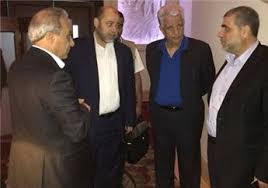 An Israeli delegation arrived in Cairo on Tuesday for indirect talks with Palestinians on a long-term Gaza truce, hours after Israeli occupation soldiers killed two Hamas members in West Bank, threatening to derail the scheduled negotiations.
Palestinian delegation in CairoSenior Hamas negotiator Ezzat al-Rishq told AFP the Palestinian team had been headed to the headquarters of the Egyptian intelligence service, which mediates the talks, when they learned of the Israeli attack in Hebron and had turned back in protest.
"The talks have been delayed by two hours," Rishq said, condemning the assassination of Amer Abu Eisha and Marwan Qawasmeh.
The Israeli delegation arrived earlier on Tuesday, said an official at Cairo airport.
Tuesday's meeting is expected to set a timetable for further negotiations after the Muslim Eid al-Adha holiday in the first week of October, a Palestinian official said.
On August 26, the Zionist entity and the Palestinian resistance movements reached a ceasefire that ended the 50-day Israeli war on Gaza, which killed more than 2,140 Palestinians, most of them civilians, and 73 on the Israeli side, mostly soldiers, with an agreement to start negotiations in a month on unresolved issues.
These include the construction of a seaport and restoring the territory's airport, and exchanging Palestinian prisoners for the remains of Israeli soldiers.
Hamas will also hold separate negotiations in Cairo with the Fatah faction of Palestinian Authority Chief Mahmoud Abbas.
The talks will focus on the transfer of power in Gaza to the national unity government and on security in the enclave, a member of the Fatah delegation said.