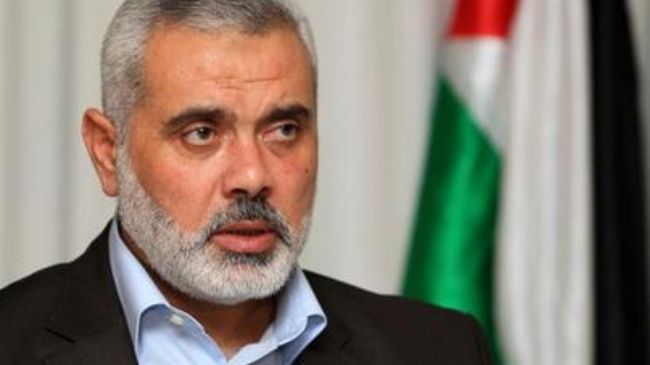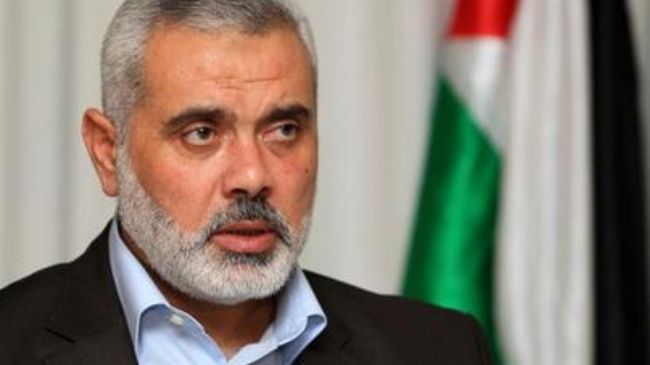 Democratically-elected Palestinian Prime Minister Ismail Haniyeh has extended congratulations to Gazans over their resistance in the face of eight days of relentless Israeli bombardment on the Gaza Strip.
"Victory of Gaza is a reality. God will accept what you've sacrificed, and all Muslims are happy because of this victory," Haniyeh said at a news conference in Gaza City on Thursday.
Haniyeh underlined that Israel's failure in its latest military onslaught on Gaza "set the stage to prevent future aggressions and assassinations."
He added, "Peace be upon Palestine and Gaza. Peace upon Arab Spring which helped Palestinians. I am very proud to be the prime minister of these people (Palestinians)."
Haniyeh also denounced the murder of Ahmed al-Ja'abari, the popular and influential leader of the Hamas military wing, the Ezzedeen al-Qassam Brigades, in an Israeli attack on his car on November 14.
"The Israeli assassination of Ja'abari was shameful," he stated.
The senior Palestinian leader also lauded Iran's firm support for Palestinians, and an Egyptian-brokered ceasefire that stopped the vicious Israeli attacks on Gazans.
"I especially thank the Islamic Republic of Iran. Egypt surprised enemies by its stance. The enemy realized it will not achieve its goals," Haniyeh said.
The Palestinian prime minister further urged the Palestinians to exercise resistance in confronting the Israeli aggression.
"Resistance can unite our people and bring us independence," Haniyeh pointed out.
On November 14, Israel launched a deadly offensive on the besieged Gaza Strip, which killed more than 160 Palestinians and injured some 1,200 others.
Palestinian resistance fighters incessantly poured retaliatory rockets and missiles onto the Israeli cities, killing at least five Israelis, including one soldier, in response to the deadly attacks on Gaza.