Palestine
Gazans to keep up anti-occupation rallies until end of Israeli siege: Haniyeh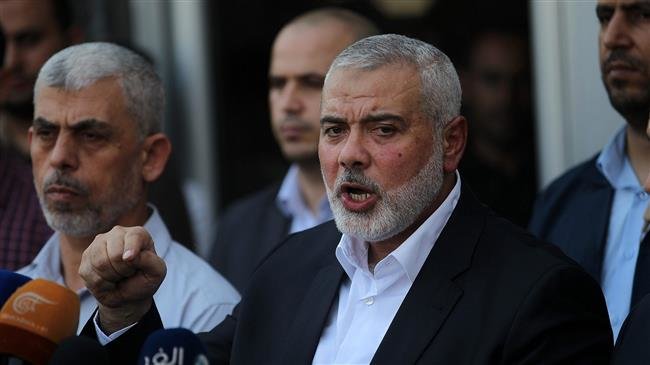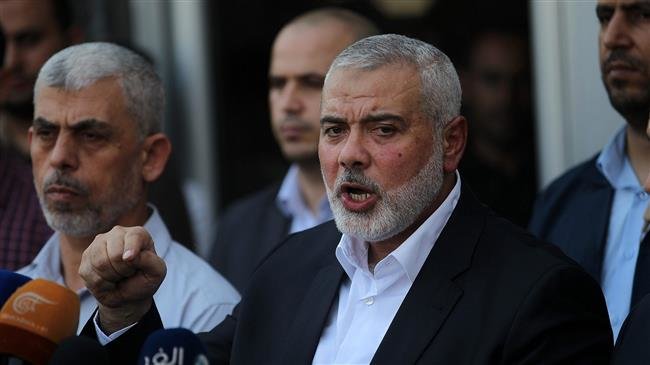 The leader of the Palestinian resistance movement of Hamas, Ismail Haniyeh, says the weekly anti-Israel rallies will continue as long as the Gaza Strip remains under siege.
Haniyeh said on Saturday that Palestinians will not stop the Great March of Return protests until a decade-long Israeli blockade on Gaza is lifted completely.
He was speaking at a funeral of Palestinians who were killed by Israeli forces along the border fence between the besieged Gaza Strip and the occupied territories a day earlier.
Palestinian mourners across the Gaza Strip held funerals for seven protesters killed by Israeli forces during the weekly rallies on Friday.
Funeral processions
Elsewhere in Khan Younis and at Nuseirat refugee camp in central Gaza, hundreds of people held funeral ceremonies for Ahmad al-Tawil as well as 17-year-old Ahmed Abu Naim who lost their lives during anti-occupation rallies east of al-Bureij refugee camp on Friday.
Gaza health officials said seven Palestinians were killed and 140 people wounded by Israeli forces during weekly protests on Friday.
Tensions have been running high near the fence since March 30, which marked the start of a series of protests dubbed "The Great March of Return." Palestinian protesters demand the right to return for those driven out of their homeland.
The clashes in Gaza reached their peak on May 14, the eve of the 70th anniversary of Nakba Day, or the Day of Catastrophe, which coincided this year with Washington's relocation of the US embassy from Tel Aviv to occupied Jerusalem al-Quds.
Around 200 Palestinians have so far been killed and over 20,000 others wounded in the renewed Gaza clashes, according to the latest figures released by the Gaza Health Ministry.
Gaza has been under Israeli siege since June 2007, causing a decline in living standards as well as unprecedented unemployment and poverty.
Israel has also launched several wars on the Palestinian sliver, the last of which began in early July 2014 and ended in late August the same year. The Israeli military aggression killed nearly 2,200 Palestinians and injured over 11,100 others.