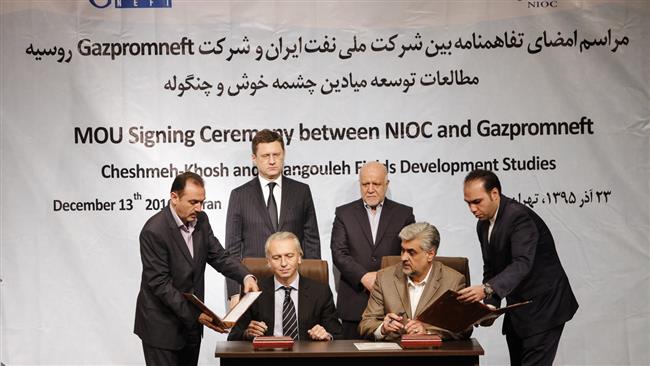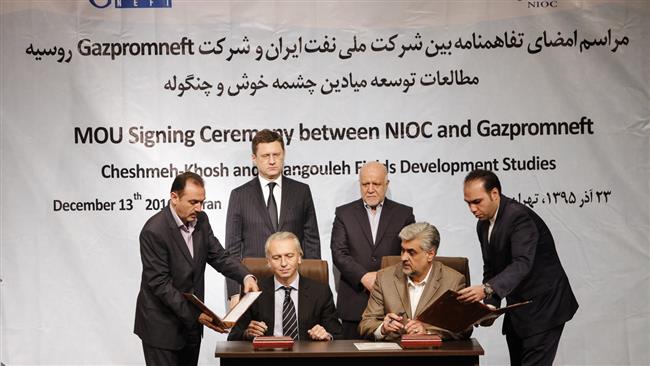 Russia's Gazprom has signed a cooperation agreement with an Iranian company over the development of two major oil fields in western Iran. 
The agreement was signed with the Oil Industries' Engineering and Construction (OIEC), Iran's IRNA news agency reported.
The target oil fields would be Azar and Changuleh, Iran's most recent discoveries located in the western province of Lorestan.
The cooperation agreement between Gazprom and OIEC was signed by the heads of the two companies in Russia's Saint Petersburg.
Based on it, they would cooperate over the development of Azar and Changuleh through the framework of Iran's new format of oil contracts.
Unlike Changuleh, Azar is a joint field shared with Iraq. The Iraqi part of Azar is called Badra.
Azar and Changuleh were discovered in 2005 as a result of explorations conducted by a consortium comprising Russia's Lukoil and Norway's Statoil.  Both fields – together with Iraq's Badra – are believed to hold an in-place reserve of about 3.5 billion barrels.
OIEC started the early development of Azar in March by producing an average of 15,000 barrels per day (bpd) from the field.
It later went ahead with the second phase of the development of the field by producing a collective of 30,000 bpd.
Azar's production is expected to reach 65,000 bpd in the third stage which would start next year.
Gazprom signed an agreement with the National Iranian Oil Company (NIOC) in December 2016 to study Changuleh oil field as well as Cheshmeh Khosh – also in Lorestan province.
Iran has so far signed similar basic agreements with Norway's oil and gas operator DNO ASA as well as Thailand's PTT Exploration and Production Public Company Limited (PTTEP) to study the same field.