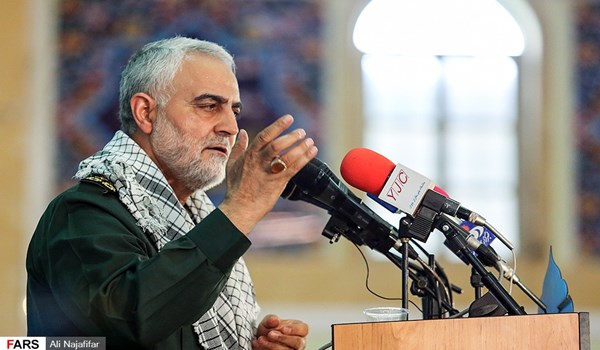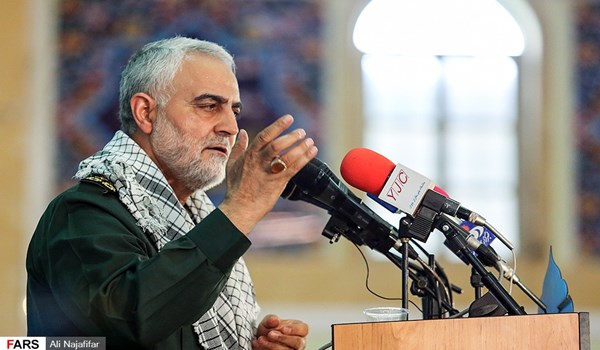 Commander of the Quds Force of the Islamic Revolution Guards Corps (IRGC) Major General Qassem Soleimani warned that the Americans would see the "gates of hell" opening to them if they attack Iraq's Hashd al-Shaabi (popular forces), Iraq's Arabic-language al-Qad Press reported.
A commander of Hashd al-Shaabi quoted General Soleimani as saying that "if the US forces target the Hashd al-Shaabi and Iraqi Islamic resistance forces, we will open the gates of hell to them", Iran-based Keyhan daily reported on Tuesday, quoting the report from al-Qad Press.
The US-led coalition has several times in the past few years targeted the Iraqi resistance forces who were the main force in the country's fight against the terrorist groups, specially the ISIL.
In a latest case, a field commander said on Monday that the US-led coalition artillery units opened fire at a base of the Hashd al-Shaabi forces in Western Anbar.
Al-Qad Press quoted Qassem Mosleh, commander of Hashd al-Shaabi operation in Western Anbar, as saying that the coalition's artillery units shelled one of the bases of Hashd al-Shaabi in the town of al-Qa'em in Western Anbar.
The source further said that the artillery shelling targeted areas near Hash's base, adding that Hashd sees the move as an intentional attack on its forces.