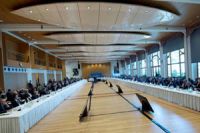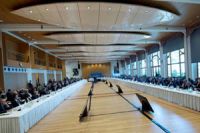 After ten days, the Geneva 2 conference yielded no fruit for resolving the Syrian crisis. Many analysts and political observers are of the opinion that the inconclusiveness of the confab is due to the absence of Iran as the influential country in the region.
The recent remarks of the UN Secretary of State Ban Ki Moon confirm the issue well. Therefore, there are already conjectures about the likely invitation of Iran to the next round of negotiations slated for February 10. In this connection, the Russian daily Kommersant reported that Washington and Moscow have agreed on convening a session parallel to the Geneva 2 conference with the presence of the Islamic Republic of Iran and Saudi Arabia. According to the report this issue was proposed by the US Secretary of State John Kerry to his Russian counterpart Sergei Lavrov on the sideline of the Munich Security conference. The Russian daily continues, "John Kerry has proposed to create a regional parallel mechanism on the Syrian crisis. According to his proposal Russia, Turkey, Saudi Arabia and the Islamic Republic will take part in the mechanism.
The noteworthy point is that Turkey, Russia, Saudi Arabia and the US were all present at Geneva 2 conference but it failed without Iran. The UN chief had invited Iran 24 hours before the start of the event but under the pressures of the US and the opponents of the Syrian government he changed rescinded the invitation. The Russian daily Kommersant stresses that the Russian party has welcomed the American new plan to invite Iran to the Joint Act on Syria. This daily deems John Kerry's proposal as a change in the US policy on Syria. Some of the US media have also quoted John Kerry as saying that Washington's policy on Syria has failed. These media reported that the American secretary of state, in a one hour session with the US lawmakers in Munich, has informed of a change in the US strategy for Syria. Furthermore, the White House spokesman Jay Carney announced, "The US President Barack Obama believes that it is quite necessary to find a political solution for the Syrian crisis. This is an option that has no alternative."
The United States has so far been one of the big financial and military supporters of the militants and Takfiri terrorists in Syria. That's why it has strongly backed the measures of the Saudi and Turkish governments in support of Takfiri terrorists in the country. But the failure of the Takfiri terrorists for overthrowing the Syrian government and turning the terrorists into a security threat for the entire region has caused the westerners and their regional accomplices to change their view on the Syrian developments. Excluding Saudi Arabia, almost all of the regional and extra-regional influential countries have understood that the Syrian crisis can only be solved via political means.