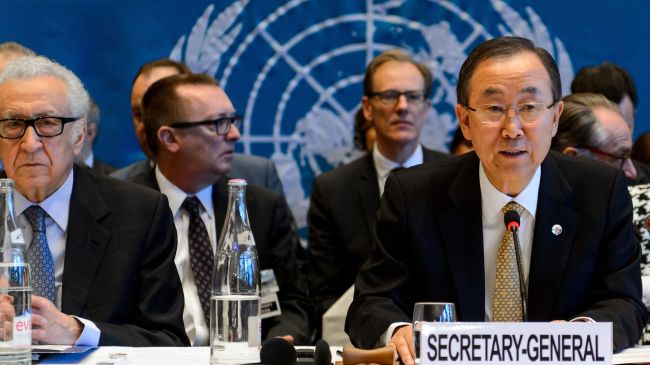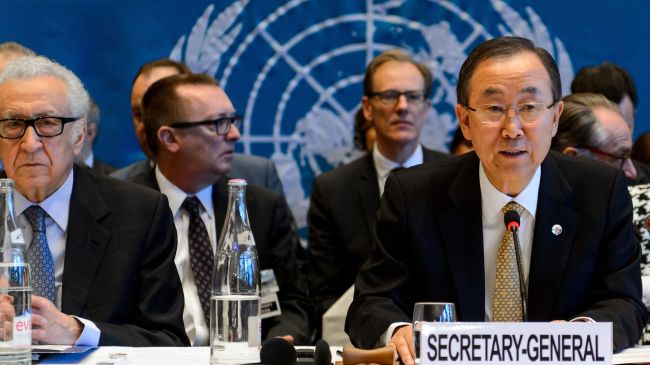 A long-awaited international conference on the ongoing crisis in Syria kicked off in Switzerland on Wednesday.
UN Secretary General Ban Ki-moon opened the Geneva II conference, urging the warring sides in the Arab country to seize the opportunity to resolve their differences.
"After nearly three painful years of conflict and suffering in Syria, today is a day of hope," Ban said.
"You have an enormous opportunity and responsibility to render a service to the people of Syria," the UN chief told representatives of the Syrian government, the main opposition in the country and some 40 nations who have convened in the Swiss town of Montreux.
The conference is believed as the most serious effort yet to end the crisis in the Middle Eastern country as the representatives from the Syrian government and the main opposition meet there for the first time.
Syria has been gripped by deadly crisis since March 2011 with the Western powers and their regional allies– especially Qatar, Saudi Arabia, and Turkey– supporting the militants operating inside Syria.
According to the United Nations, more than 100,000 people have been killed and millions displaced due to the violence.