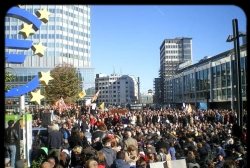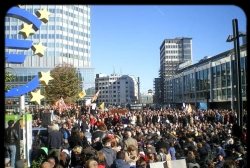 Germany's version of the global Occupy Wall Street protests marched in Berlin and Frankfurt on Saturday for a third week in a row.
Around 5,000 people demonstrated in Frankfurt, continental Europe's financial hub, against corporate greed and mounting social inequality in Germany, organizers said.
In Berlin, some 3,000 people took to the streets of the city center demanding an end to the free-wheeling ways of global financial players whom they view as responsible for the present European and American economic woes.
In other related news, thousands marched in the northern German port city of Hamburg Saturday to protest surging rents and a shortage of affordable housing. Hamburg is the most expensive German city in terms of housing prices.
Police estimated that about 4,400 people took part in the demonstration, among them also many anti-capitalism protesters. Police reported minor disturbances on the sidelines of the demonstration, among them an incident in which people threw bottles full of paint at a local  headquarters of Germany's opposition Social Democratic party. Several vehicles were also damaged in the protests.