Europe
German chancellor wants Greece to remain in eurozone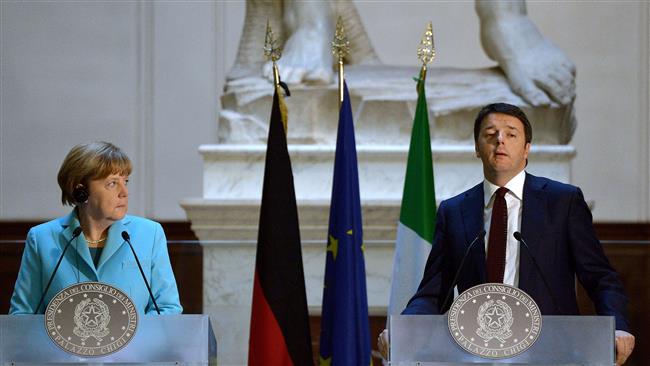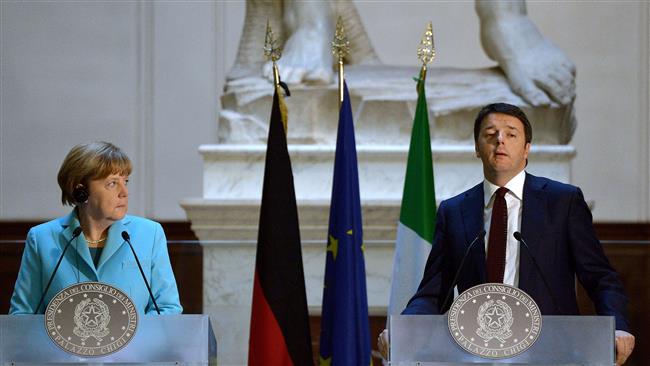 German Chancellor Angela Merkel says Berlin wants Greece to remain in the eurozone as the polls show that anti-bailout opposition party Syriza is likely to sweep to power in this weekend's election and determine whether Athens stays in the single currency bloc.
"At the heart of our principles lies solidarity. I want Greece, despite the difficulties, to remain part of our story," Merkel said at a press conference with Italian Prime Minister Matteo Renzi in Florence on Friday.
A recent opinion poll showed that Greece's leftist Syriza party, which seeks an end to austerity measures and a debt write-off from the EU, holds a lead over the ruling conservatives, and is expected to grab the largest share of votes in the January 25 election.
According to the survey, Syriza would get 31.5 percent of the vote against 28 percent for the liberal-conservative New Democracy party of Prime Minister Antonis Samaras.
Greece has been relying on international rescue loans since 2010. It has received 240 billion euros (USD 330 billion) in international loans. In exchange, Athens has implemented harsh austerity measures.
ECB's bond-buying program
Merkel further said eurozone governments must not use a bond-buying program announced by the European Central Bank (ECB) as a pretext to slacken economic reforms.
She added that only government reforms could revive the eurozone and said, "No central bank in the world will be able to replace politics; political leaders have to live up to their responsibilities."
According to reports on Thursday, the ECB plans to launch a massive bond-buying scheme worth one trillion euros (USD 1.16 trillion) in an attempt to resuscitate the eurozone's staggering economy.
The ECB will start the program, also known as quantitative easing (QE), in March and keep it up until the end of September 2016.
Italy not worried about Greek election result
The Italian primer, for his part, said he was not worried about the election results in Greece.
Renzi added, "I respect the citizens' choice and from next week the 27 [EU] partners will work with" the election's winner "with great willingness."
He welcomed a more flexible stance on budget policy and hailed the recent ECB announcement of quantitative easing plan.
The Italian prime minister argued that changes must not block the country's reform path.