Europe
Germans urge switch to green energy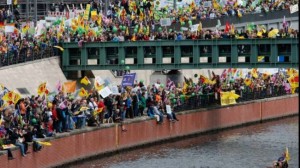 Thousands of Germans have taken to the streets to push the government towards using green energy more than before.
The demonstration was organized by environmental groups in the German capital of Berlin on May 10, 2014.
The demonstrators protested against nuclear energy and the expansion of power stations running on fossil fuel.
They voiced anger over a lack of commitment by the government to execute an energy transition plan designed for a shift from conventional to renewable energy sources.
The protesters called for the law to change in favor of the renewable sector to compete in the market and for the government to cut its financial aid to large energy corporations.