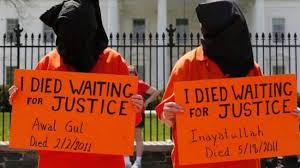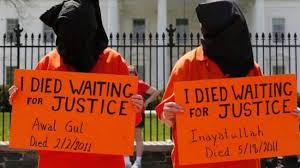 The Guantanamo prison in Cuba exposes the "hypocrisy" of the United States and represents its "imperialist" policies, a political commentator and journalist in Detroit says.
The force-feeding of inmates who were on hunger strike at Guantanamo to protest their inhumane conditions was a "total violation of human rights, it contravenes medical ethics," said Abayomi Azikiwe, editor of the Pan-African News Wire.
The US military's techniques to force-feed inmates at the notorious prison have a long-term risk to the health of detainees, according to a US court hearing.
A University of Minnesota professor of medical sciences, Steven Miles, testified that many of the techniques the officials have used to feed the prisoners run counter to the accepted medical practices.
The assessment came at a hearing where lawyers for Syrian prisoner, Abu Wa'el Dhiab, were seeking to improve the conditions of confinement that Dhiab faces at the hands of his captors.
"The prisoners at Guantanamo Bay who have been engaging in hunger strikes have a right to do so, they're being held there for no reason… they have a right to protest their unjust detention," Azikiwe told Press TV on Wednesday.
Azikiwe said most of the inmates should be released immediately because there is no evidence that they committed any wrongdoing.
"They do not want these prisoners released because they will tell what the practices are at Guantanamo Bay, their release will also further expose the hypocrisy of the United States which accuses other governments and other entities around the world of gross human rights violations, when in fact the United States itself is a leader in human rights violations throughout the world," he argued.
More than 150 detainees are still held at Guantánamo, most of whom without charge or trial. The first detainees were brought there 12 years ago after being captured during America's so-called War on Terror.
In January, Amnesty International said the continued operation of Guantánamo by the US and the torture of detainees there was a prime example of America's double standard on human rights.
Amnesty also slammed President Barack Obama for not closing Guantanamo as he promised in 2009 when he first came to office.