Yemen
Global Anger against US Movie: Protestors Stay in Yemen Streets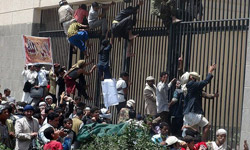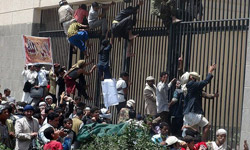 The Yemeni people continued demonstrations against the US and Israel over a sacrilegious film against Muslim prophet which has spread the furor across the Middle East.
Tens of thousands of Yemenis staged protest rallies on Friday demanding an immediate closure of the US embassy in the country.
The demonstrators burned the American flag and called for the expulsion of the US ambassador to Yemen.
"No embassy, no ambassador, the people want the ambassador expelled," they chanted.
"Leave, slave of the devil. Leave, ambassador of the Americans" and "Death to America, death to Israel," they shouted.
Yemeni forces fired warning shots, tear gas, and water cannon on the protesters near the US embassy on Friday as they tried to march toward the embassy compound.
On Thursday, at least four Yemenis were killed and many other injured after security forces opened fire on protesters attacking the US embassy.
In Sana'a, the Yemeni capital, yesterday around 5,000 demonstrators attacked the US embassy, leaving at least 15 people injured. Young protesters, shouted: "We sacrifice ourselves for you, Messenger of God," smashed windows of the security offices and burned at least five cars, witnesses said.
Meanwhile tens of thousands of Yemenis staged a peaceful demonstration at the capital's Sittin Avenue against the insulting movie.
Since the release of the sacrilege film, protesters have attacked US embassies in Libya, Egypt and Yemen over the movie. The US ambassador to Libya Christopher Stevens and three other Americans were killed in an attack on the US consulate in Benghazi on Tuesday.
Protest rallies against the film were also held in many Muslim countries including Egypt, Libya, Iran, Iraq, Afghanistan, Pakistan, Saudi Arabia, Sudan, Morocco, Indonesia, Kuwait, etc.
The movie, named Innocence of Muslims, has been financed by more than 100 Zionists.
Innocence of Muslims, previously called Desert Warriors and Innocence of Bin Laden, is a 2012 anti-Muslim film about Prophet Mohammad (PBUH).
The film was made in the United States by a man initially reported by US media to be an American-Israeli who relied on funding from 100 Jews.