Europe
North America
World News
Global COVID-19 cases near 2mn mark, deaths close to 120K
At least 1,920,918 COVID-19 infections have been confirmed worldwide, and 119,686 people have died so far, with the United States leading all nations in both the number of cases and the death toll, followed by major Western European countries.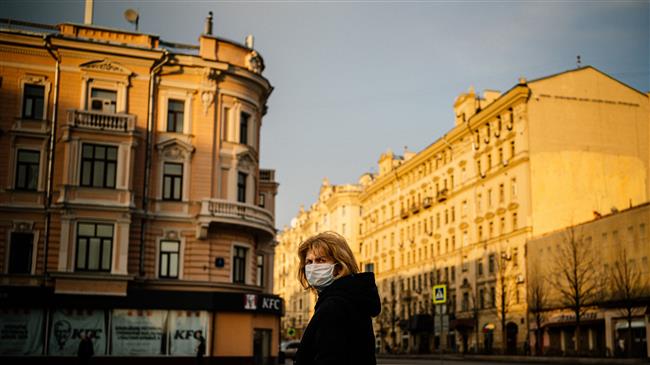 Latest data collected by the US-based Johns Hopkins University showed that the United States by far leads the 214 countries and territories affected by the viral pandemic, with 582,580 cases as of Monday, followed by Spain, Italy, France, Germany, and Britain in that order.
More than 71,000 new cases of infection with the new coronavirus and 5,319 more deaths from the disease were reported worldwide within the past 24 hours, as many countries discussed plans to loosen lockdown measures despite concerns about the likelihood of fresh outbreaks.
The following are the latest development about the global pandemic in the past day:
France, Britain mark major death toll surge
The French public health authority on Monday reported a new surge of COVID-19 deaths, namely 574 fatalities.
France has now recorded 14,967 deaths, and 136,779 people remain infected in the country.
French President Emmanuel Macron on Monday declared plans to extend a virtual lockdown to curb the outbreak until May 11, insisting that progress had been made in the battle against the highly contagious disease.
The British death toll, meanwhile, surpassed 11,329 on Monday, marking the fifth highest worldwide, and a senior scientific adviser to the UK government warned that the country faces the risk of becoming the worst-hit in all of Europe.
Italy's daily deaths hike, Spain's slows
Coronavirus-linked deaths surged in Italy by 566 on Monday, from 431 a day earlier, though new infections markedly dropped from Sunday's 4,092 to 3,153 — the lowest since April 7.
Italy's total death toll since the pandemic surfaced in the country nearly two months ago now stands at 20,465, the second highest in the world after that of the US.
Elsewhere in Europe, Spain's government allowed some businesses to re-open on Monday as the country's death rate from the outbreak slowed.
While some businesses, including construction and manufacturing, were allowed to restart, Spanish Health Minister Salvador Illa said the country otherwise remained in lockdown, with shops, restaurants, and public spaces remaining shut until at least April 26.
Russia may deploy army
Russian President Vladimir Putin announced on Monday that his county might need to deploy military forces to enforce a lockdown, warning that the outbreak was getting worse after the number of confirmed cases surged by a record daily sum.
Putin's remarks came after Russia reported 2,558 new cases on Monday, bringing the overall tally nationwide to 18,328, with 18 infected people dying overnight and pushing the death toll to 148.
The Russian president further criticized what he described as sloppiness in some regions that had allowed local outbreaks to gain a foothold, urging regional leaders to make use of what he said was a three to four-week lag with Moscow, the epicenter of the Russian outbreak.
However, the number of deaths in Russia remains much lower for now compared to most countries in Western Europe and the United States.
A young street child, also referred to as Talibe, gets his temperature measured in a quarantined area at a refuge for newly-arrived street children, outside Dakar, Senegal, on April 10, 2020. (Photo by AFP)
Americas
Brazilian officials announced on Monday that the government had banned non-indigenous people from entering tribal lands in an effort to halt the spread of coronavirus in their villages, adding that it would distribute masks, gloves, test kits, and food to their communities.
The outbreak in Latin America's largest and most populous country has raised concerns that Brazil's 850,000 indigenous people are in danger of being decimated by the virus because they have no defense against diseases brought from outside and many live in communal houses where social distancing is not possible.
The country's health authorities have so far reported three deaths among indigenous people, including a 15-year-old youth from the vast reservation where 25,000 Yanomami live on the border with Venezuela.
This is while a new study released in the country on Monday estimates that Brazil likely has 12 times more cases of the new coronavirus than are being officially reported by the government, with too little testing and long waits to confirm the results.
According to official figures, Brazil has a death toll of 1,328, and 23,430 cases as of Monday.
Meanwhile, Mexico's Health Ministry registered 353 new infections on Monday, bringing its total to 5,014 cases and 332 deaths. However, the nation's deputy health minister further cited government statistical models to acknowledge that the Central American country likely had far more people infected with the virus.
Separately, a city government in the central Argentinean province of Cordoba has dug nearly 250 graves, anticipating a death toll surge from the outbreak, even though a nationwide lockdown appears to be flattening the rise in new cases.
Gravediggers at the cemetery in San Vicente on the outskirts of the provincial capital now plan to add a further 250 burial plots in the coming days, said an official of a local union representing the workers that dug the graves.
Argentina moved aggressively to combat the spread of the virus, with a nationwide lockdown in place since mid-March. Its closed borders helped slow growing infections, which now include over 2,200 cases with 95 deaths.
A man wearing a face mask and a plastic bag on his head rides a bicycle on a street in Wuhan, in China, on April 14, 2020. (Photo by AFP)
Canada
Canada's Chief Medical Officer Theresa Tam announced on Monday that the country's nursing homes, which have already recorded nearly half of its total coronavirus deaths, will continue to see more fatalities even as the overall number of new cases declines.
The number of people killed by the coronavirus in Canada climbed by nearly nine percent to 734 on Monday compared to a day earlier. That is slower than the 11 percent reported Sunday and the almost 32-percent increase recorded a week earlier.
Deaths in long-term care facilities "will continue to increase even as the epidemic growth rate slows down," Tam emphasized during a daily news conference in Ottawa.
Africa & the Middle East
Nigeria's President Muhammadu Buhari announced on Monday that his government would extend lockdowns in Lagos, Abuja, and Ogun states for an additional 14 days to combat the coronavirus.
Buhari further underlined that it was crucial to extend the lockdown due to an "alarming" increase in positive cases in a number of states. Initial 14-day lockdowns in the three areas began on March 30.
There are currently 323 confirmed cases of the virus in Africa's most populous country of 200 million, nearly three-quarters of them in Lagos and the capital territory of Abuja, and 10 people have so far died from the virus.
Sudan, meanwhile, will impose a lockdown on the capital, Khartoum, for three weeks after 10 more cases were detected on Monday, according to its information minister.
A total of 29 cases have been reported in Sudan, with four deaths.
South Africa's health minister announced on Monday that the country had recorded 99 new coronavirus cases, taking the total in the country to 2,272.
The country also registered a further two deaths from the virus, increasing the death toll to 27, the minister added.
UN agencies: 117 million children may miss measles shots due to COVID-19
UN agencies: 117 million children may miss measles shots due to COVID-19
United Nations officials warn that millions of children could miss out on immunization against measles due to social distancing measures during the COVID-19 pandemic.
Gaza resumes coronavirus testing amid shortages
Coronavirus testing has resumed in the Israeli-besieged Gaza Strip after the occupying regime allowed five testing kits purchased by the WHO into the Palestinian enclave, a Gaza Health Ministry spokesman said on Monday.
The official, however, underlined that the kits would be of "limited immediate help" because they could be used to test only about 500 people in the densely-populated territory of two million.
On April 8, health officials in Gaza said they had run out of testing kits and voiced concern that a shortage of medical supplies could lead to the rapid spread of infections in the territory.
Gaza has 13 confirmed cases of the new coronavirus, all in quarantine as the Israeli regime continues to maintain its brutal blockade of the impoverished enclave.
Turkey
Turkish President Tayyip Erdogan also announced on Monday that Ankara would impose a new lockdown next weekend as part of measures to halt the spread of COVID-19, having locked down 31 provinces last weekend.
The development came as Turkey's parliament on Tuesday passed a law that would allow the release of tens of thousands of prisoners to ease overcrowding in jails and protects detainees from the coronavirus, but which critics censure for excluding those jailed on "terrorism" allegations.
The law will open the way for the temporary release of around 45,000 prisoners to stem the spread of the coronavirus. Those eligible will be released under judicial control until the end of May and the Justice Ministry will be able to extend the period twice by a maximum of two months each time, according to the law.