Palestine
Global protests condemn Zionist regime attacks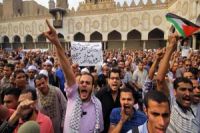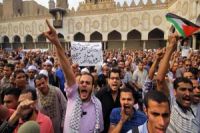 People around the globe have staged protest rallies to condemn the Zionist regime's attacks on Gaza and to voice support for the Palestinians in the blockaded coastal strip.
Demonstrators in several countries including Egypt, Lebanon, Iran and the West Bank took to the streets in solidarity with Gazans.
Thousands of Palestinians, holding up Hamas flags, rallied in the West Bank on Friday, calling on the Palestinian resistance movement to "bomb Tel Aviv" in response to the deadly attacks.
The anti-Israeli demonstrations were held in several cities across the West Bank, including Nablus, Ramallah and East al-Quds (Jerusalem).
Thousands of people also rallied in Egypt's two largest cities, Cairo and Alexandria on Friday, waving Palestinian flags and chanting slogans against Israel in condemnation of its murderous attacks on the besieged Palestinian enclave.
Pro-Palestine activists in New York City, Paris, London, Sydney and Beirut also held demonstrations against the ongoing airstrikes by the Israeli regime.
In New York, protesters gathered outside the Zionist regime consulate, calling for an immediate end to attacks on Palestinians.
The protesters then marched to the Times Square and called on the US administration to stop supporting the Israeli regime.
In Lebanon, protesters held a demonstration outside the UN headquarters in Beirut, condemning the silence of the West over the death of civilians in Gaza.