Syria
Golan marks Syria Independence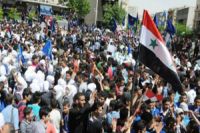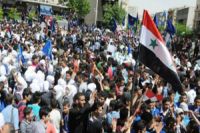 People in Golan Heights have held a mass rally to mark Syria's Independence Day.
According to Press TV, during the rally which was held on Wednesday, the demonstrators waved portraits of Syrian President Bashar al-Assad and the Syrian flag to commemorate the 68th anniversary of the country's independence.
They also expressed support for the Syrian government and army in their fight against foreign-backed Takfiri militants.
The Zionist regime captured the Golan Heights during the Six-Day War of 1967, when it also took control of the West Bank and the Gaza Strip. Zionist regime annexed the Golan Heights in 1981.
The move has not been recognized by the international community, and the United Nations regards the Golan Heights as an occupied territory.
Similar demonstrations were also held on Thursday and Wednesday ahead of the event across Syria. The rallies were staged in the capital Damascus, Sweida, Hama and several other cities. The celebrations come as government forces have managed to recapture strategic towns along the Lebanese border in recent weeks.