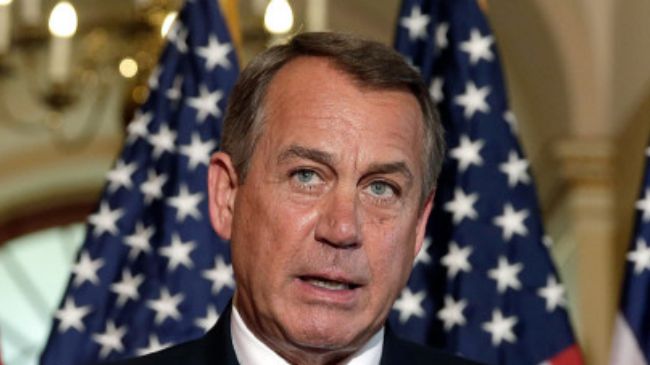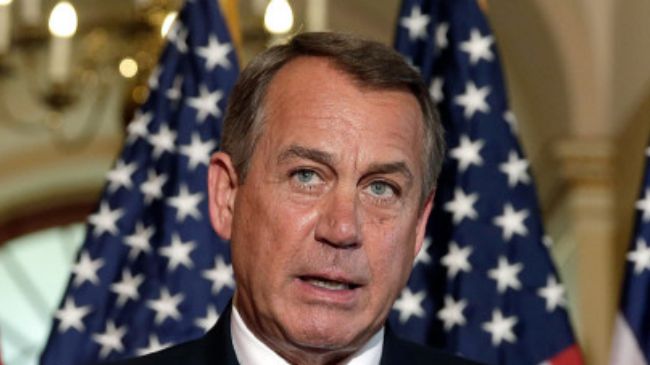 Republicans in the US House of Representatives are to offer President Barack Obama a six-week extension of the government's borrowing limit.
Hours before House Republicans head to the White House on Thursday for talks with Obama, the party's leaders outlined their proposed measure to rank-and-file Republicans at a closed-door meeting.
The measure, which runs through November 22, deals only with raising the debt limit and will not address the US government shutdown, which is now in its second week.
"I would hope that the president would look at this as an opportunity and a good-faith effort on our part to move halfway-halfway-to what he's demanded in order to have these conversations begin," House Speaker John Boehner said on Thursday.
However, a White House official said the Obama administration would not allow the GOP to hold the country's entire economy hostage to "its extreme political demands."
"While we are willing to look at any proposal Congress puts forward to end these manufactured crises, we will not allow a faction of the Republicans in the House to hold the economy hostage to its extraneous and extreme political demands," the White House official said. "Congress needs to pass a clean debt-limit increase and a funding bill to reopen the government."
An Associated Press-Gfk survey on Wednesday showed Americans' approval rating for Congress has dropped to a record low 5 percent while more than six of every 10 Americans blamed the Republicans for the fiscal impasse.
On October 1, the US government partially shut down operations as congressmen refused to agree on a temporary spending bill that would keep the federal government funded.
Veterans Affairs Secretary Eric Shinseki warned Wednesday that millions of veterans could soon lose their benefits payments if the shutdown continues.
The Pentagon has also announced it was forced to turn to charity organizations in order to fund $100,000-death benefits for families of US soldiers recently killed in Afghanistan.
Meanwhile, the US Treasury Department says the government's current debt ceiling of $16.7 trillion will be reached by October 17.
In a report on global financial stability on Wednesday, the International Monetary Fund called on Washington to raise its debt limit before a default damages the world economy.