Palestine
Lebanon
Middle East
Resistance Axix
Graffiti of Resistance Martyrs on the Lebanese-Palestinian Border Fence
Pro-resistance activists launched an initiative on Hezbollah's 40th anniversary, painting murals featuring resistance martyrs on the bordering wall separating Lebanon and occupied Palestine.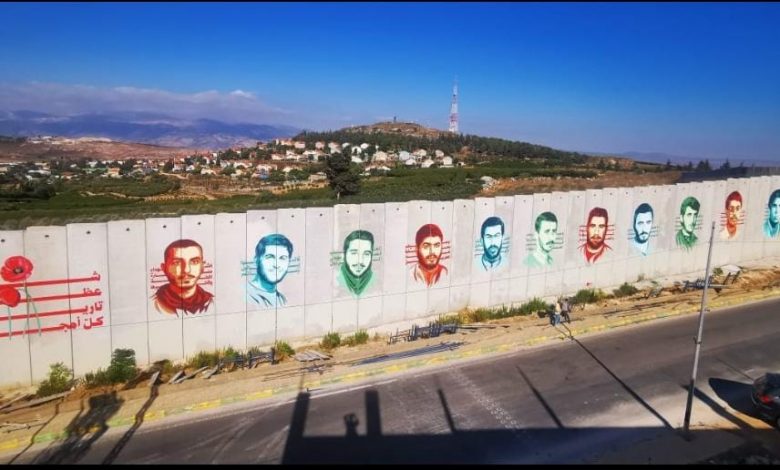 The activists said the project was as part of "Siyaj" (or "Fence") initiative, which comes within the framework of celebrations marking forty-years since Hezbollah's establishment.
The pictures of around 13 Hezbollah martyrs were painted on the wall that was built by the Zionist entity for fear of Hezbollah's storming into the occupied territories. The martyrs' names, in order of appearance, are as follows:
1- Ahmad Kassir, the first self-sacrificing martyr who detonated his explosive-rigged car at the headquarters of the Israeli military command in Tyre on November 11, 1982, just few months following the Israeli invasion.
2- Amer Kalakish, who on March 10, 1985, detonated his vehicle loaded with about 900 kilograms of explosives in a Zionist military convoy north of the settlement of Mutla at the Lebanese-Palestinian border, killing 12 soldiers and wounding 14 others.
3- Ali Safieddine, who on the 13th of April, 1984, set off on his explosive-loaded car from his town, Hallusiyyeh, towards Deir Qanoon Nahr Town, where he parked his car close to the main road. Excluding civilians, he awaited his target, and once the Israeli military convoy arrived, he bombed his car, wounding or killing all of the convoy members.
4- Haitham Dbouk. On the 19th of August, 1988, he broke into a Zionist military convoy on Tal el Nhas-Deir Memass route. The convoy, which was on its way back from occupied Palestine, was perfectly demolished as he bombed his loaded car. Tens of Zionists were killed or wounded.
5- Abdullah Atwi. On October 19, 1988, Martyr Atwi rammed his booby-trapped car into two Zionist military convoys, turning both of them into carnage and fire.
6- Asaad Berro, who on August 29, 1989 rammed his booby-trapped car into a Zionist military convoy in Al-Qulaya village, killing or injuring 25 Zionist soldiers.
7- Ibrahim Daher. On August 20, 1992, Martyr Daher blew himself up when a group of 22 Israeli soldiers approached him after he pretended to be killed when his munitions ran out during an exchange of fire in Al-Jormok area, killing or injuring most of them.
8- Abbas Al-Wezwaz. On August 18, 1994, Martyr Al-Wezwaz carried out a martyrdom attack against the Israeli occupation forces in Naqoura town, inflicting heavy material and psychological losses with a deadly ambush.
9- Salah Ghandour. On April 25, 1995, the martyr Salah Ghandour rammed his booby-trapped car in a Zionist military convoy near the occupation's post in Bint Jbeil town, inflicting heavy human and material losses upon it. The explosion also hit another convoy while exiting the Israeli post.
10- Hussein Ayyoub who was martyred in the Hula-Markaba operation, on March 4, 1996. Martyr Ayoub was one of the pioneers working on the project of establishing Hezbollah's air force.
11- Ali Ashmar. On March 20, 1996, Martyr Ali Ashmar surpassed all the Israeli security measures and fortifications and reached Odeisseh village where he blew himself up upon approaching a Zionist command convoy, inflicting heavy losses upon it.
12- Bilal Khreiss. On June 10, 1996, Martyr Bilal Al-Akhras carried out a martyrdom attack on the Israeli occupation forces in Dabsheh-Khardale area, inflicting heavy material losses.
13- Ammar Hammoud. On December 30, 1999, Martyr Ammar Hammoud rammed his booby-trapped car into a Zionist military convoy in Al-Qulaya, Marjayoun, killing or injuring 25 Israeli soldiers, including a senior officer. It is worth noting that the operation contributed to speeding up the Israeli withdrawal which came after around six months.
At the end, a resounding statement echoed by late Hezbollah Secretary General Sayyed Abbas Moussawi is written in red on the wall, reading: "Our martyrs are our grandeur, history, and our all-out glory."