Europe
Iran
Middle East
North America
Qasem Suleimani
Great Idiot Trump voices support for Iran protests as UK envoy detained for organizing protesters
US President Donald Trump has, in a tweeted message, supported protesters in Iran who were angry at the government's handling of the aftermath of a plane crash last week, amidst reports of the British ambassador's brief detention in Tehran over his presence at the protest site.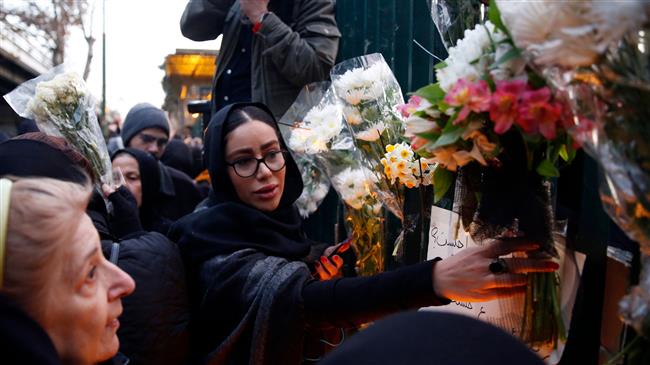 Protesters, mostly students, gathered outside the Amir Kabir and Sharif universities in Tehran late Saturday after Iranian armed forces headquarters issued a statement clarifying circumstances surrounding the crash of a Ukraine International Airlines plane on January 8 which killed 176 people on board.
Iran: Ukrainian plane brought down 'due to human error'Iran says a Ukrainian plane which crashed outside Tehran this week had flown close to a sensitive military site and been brought down due to human error "at a time of crisis caused by US adventurism."
The statement said the Boeing 737-800, on its way to Kiev and ultimately bound for Canada's Toronto, had been shot down accidentally hours after Iran fired missiles at two American military bases in neighboring Iraq early on Wednesday.
The demonstrators expressed their anger over the conduct of the officials regarding the downing of the aircraft and the three-day delay in releasing the facts to the public.
Trump was quick to take to Twitter on Saturday, saying in both Farsi and English that his "administration will continue to stand with" the protesters.
To the brave, long-suffering people of Iran: I've stood with you since the beginning of my Presidency, and my Administration will continue to stand with you. We are following your protests closely, and are inspired by your courage.— Donald J. Trump (@realDonaldTrump) January 11, 2020
One Twitterer responded by saying that Trump cannot claim to support Iranians after he had imposed sanctions targeting them.
You don't get to murder civilians with starvation sanctions and then have anyone believe you when you tell them you stand with them.https://t.co/PrvTmtG2PE— Caitlin Johnstone ⏳ (@caitoz) January 11, 2020
Another one said that a president directly speaking to a nation shows "he is encouraging demonstrations and other destabilizing activity."
Pro hint: When you hear a President speak directly to a nation we are not on good relations with, and he is encouraging demonstrations and other destabilizing activity, you can be rest assured there's a CIA operation underway. 100%. Take it to the bank.— Scott Ritter (@RealScottRitter) January 11, 2020
A Twitter user spoke of her friend who was ill and died because of Trump's boycott on drugs, calling on the US to leave the Middle East.
He says he has been with the Iranian people from the beginning, yes with severe sanctions. My friend was ill and died because of Trump's boycott of drugs. Get out of the Middle East.— mahtab (@mmahdavi18) January 12, 2020
John Pavlovitz, an author, reacted by saying that Iranians and Americans believe Trump is "a global moral cancer."
The decent people of both Iran and America think you're a global moral cancer.

Keep murdering people to distract from your rampant criminality and trying to explain it away later.— John Pavlovitz (@johnpavlovitz) January 11, 2020
Tim Anderson, a writer and an internationalist, called Trump's remarks "fake crocodile tears," saying, he has imposed sanctions on Iran and after assassinating their country's top general, threatened to destroy Iran's cultural heritage.
Has any crocodile ever shed such fake crocodile tears? Impose an economic war to starve the people of #Iran , then send in #MEK assassins to kill hundreds, next threaten to destroy Iran's cultural heritage, now present as a champion of the #Iranian people. #Trump— tim anderson (@timand2037) January 12, 2020
Last week, Trump claimed that his military would hit "very important" targets related to Iran if the Iranians want to take retaliatory action against the US for the assassination of a senior military commander.
"We have … targeted 52 Iranian sites (representing the 52 American hostages taken by Iran many years ago), some at a very high level & important to Iran," said Trump in a Saturday tweet while making a reference to the occupation of the former US embassy in Tehran in 1979.
The threat came after Iranian authorities said they would show a harsh response to the US strikes that killed Lieutenant General Qassem Soleimani, the commander of Iran's elite Quds force, and a number of Iraqi anti-terror fighters, in Baghdad early on Friday, January 3.
Meanwhile, on Saturday, British Ambassador Robert Macaire was briefly arrested by security forces over his presence at the site of a protest in Tehran.
UK ambassador arrested while organizing protests in Tehran: Report Reports in Iranian media suggest UK ambassador has been arrested while organizing protests in Tehran.
Dominic Raab, the UK's foreign secretary, has criticized the arrest as a "flagrant violation of international law.''
Macaire later in Twitter messages posted in Farsi acknowledged his brief detention, but denied that he had taken part in any demonstrations.
"Can confirm I wasn't taking part in any demonstrations! Went to an event advertised as a vigil for victims of #PS752 tragedy," he wrote, adding that he left the site immediately after a number of people started chanting slogans, but was arrested half an hour later.
Iran's Foreign Ministry has said it is awaiting a formal report by the police that would include a detailed account of the British ambassador's detention.