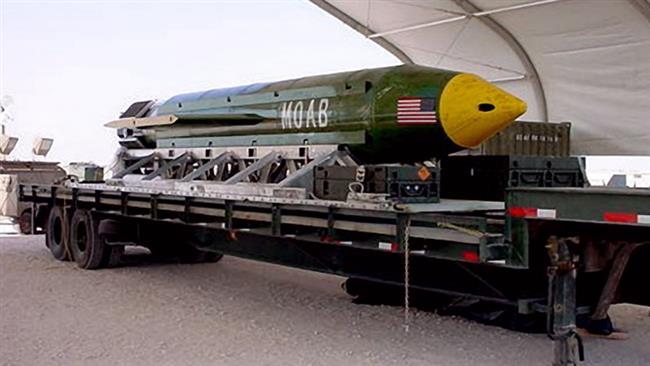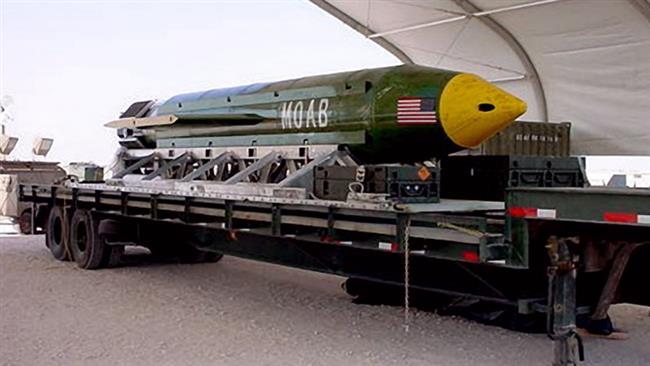 The Pentagon has released video showing the largest non-nuclear bomb in the US arsenal being dropped on a target in eastern Afghanistan.
On Thursday, a GBU-43/B Massive Ordnance Air Blast Bomb (MOAB), also known as the "mother of all bombs," was dropped on a tunnel complex allegedly used by Daesh (ISIL) militants in Nangarhar province by an MC-130 aircraft, operated by US Air Force Special Operations Command, according to the Pentagon.
"The GBU-43 is a large, powerful and accurately delivered weapon. We targeted a system of tunnels and caves that ISIS (Daesh) fighters used to move around freely, making it easier for them to target U.S. military advisors and Afghan forces in the area," White House Press Secretary Sean Spicer told reporters Thursday.
"The United States takes the fight against ISIS very seriously. And in order to defeat the group, we must deny them operational space, which we did," he added.
Some Afghan officials told CNN on Friday that the bomb killed at least 36 militants.
The top US military commander in Afghanistan told reporters at a news conference in Kabul on Friday that the decision to deploy the MOAB was a purely tactical decision.
"This was the right weapon for the right target," General John Nicholson said.
Earlier, Trump praised America's military for firing the bomb in Afghanistan.
"We have [an] incredible military. We are very proud of them and this was another very, very successful mission," Trump said.
Former Afghan President Hamid Karzai however criticized the US over the strike, saying Washington is using the country as a "testing ground" for its new weapons.
"I vehemently and in strongest words condemn the dropping of the latest weapon, the largest non-nuclear #bomb, on Afghanistan by US military," Karzai tweeted on Thursday.