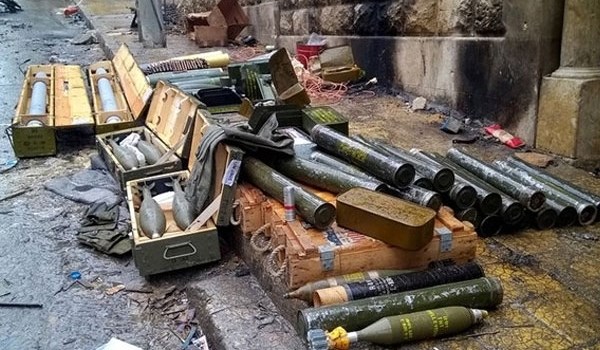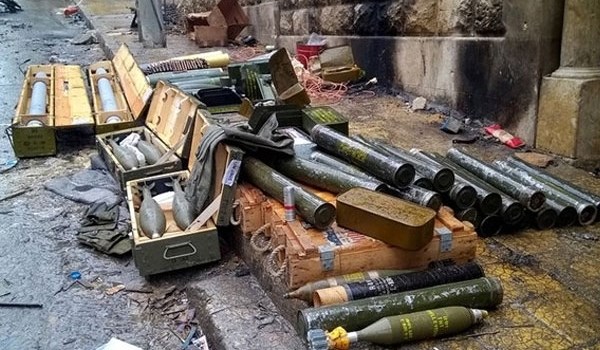 The Syrian army said it has seized a large volume of American-made weapons and ammunition from the terrorists during the mop-up operations in Deir Ezzur.
While purging terrorists from different districts of the city of Deir Ezzur, the army units gained access to a large cache of mortar rounds, different types of machine-guns, rocket-propelled grenades (RPGs) and shoulder-mounted rockets, including some manufactured by the US.
The army forces also seized wireless and radio broadcasting stations in one of ISIL's headquarters while purging terrorists from al-Sayyal village in the outskirts of Albu Kamal city East of Deir Ezzur.
In a relevant development on Thursday, the Russian defense ministry revealed that the Syrian army's fighter jet was shot down by al-Nusra Front (Tahrir al-Sham Hay'at or the Levant Liberation Board) militants in Hama province, using an American missile.
The Arabic-language al-Hadath news website quoted Alexander Ivanov, the spokesman of Russia's airbase at Humeimim, as saying that al-Nusra has used a US-made missile to bring down the Syrian fighter jet on Tuesday.
The al-Nusra's possession of US-made weapons indicates that Washington is supplying the terrorist group with different aid with the aim of preventing reestablishment of stability in Syria, he added.
A Syrian military jet was shot down by militants in Hama province, the Syrian state broadcaster confirmed, adding that a pilot was killed in the attack.
"The military aircraft crashed in the vicinity of Hama after it was shot down by terrorists; the pilot was killed," the Syrian state-run SANA news agency quoted a source as saying. The plane, identified as a L-39 Albatros jet trainer, was shot down by terrorists' anti-aircraft machineguns, a source within the Syrian opposition told Al-Masdar news.
It was not immediately clear which militant group was responsible for the attack, but the so-called Free Idlib Army, an offshoot of the Free Syrian Army, claimed responsibility on social media and in a statement to Turkish Anadolu news agency. Reuters also reported that Al-Nusra Front, an Al-Qaeda affiliate in Syria, had also claimed responsibility.
A video later emerged, purportedly showing the aircraft pilot's dead body lying in the back of a truck, with blood around his neck. The footage appears to show a body surrounded by a group of armed men, who are described in the Telegram channel Directorate 4 as members of Jeish al-Nukhba, a militant group based in Idlib and Hama.