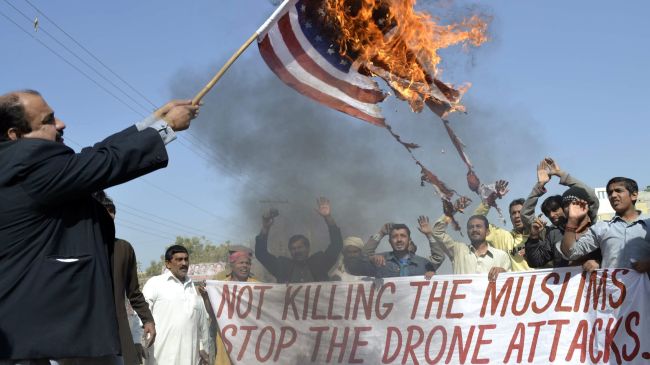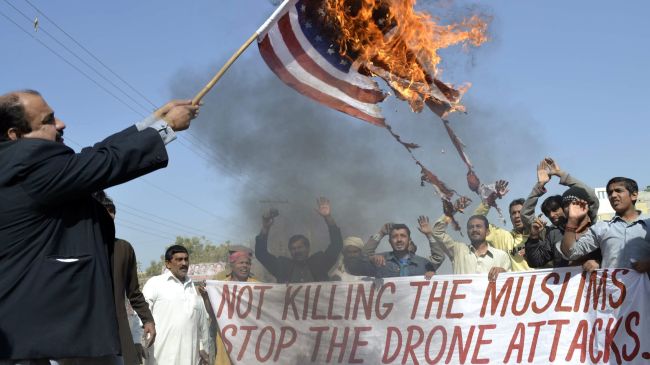 At least 15 people have been killed in Pakistan's South Waziristan agency in another US assassination drone attack on the northwestern tribal region, Press TV reports.
Three people were also injured in that attack that took place on Friday in the Shaktoi area of South Waziristan, which borders Afghanistan.
Some sources said missiles fired from the US aircraft landed on a vehicle, while others said they targeted a house.
Dozens have lost their lives in CIA-operated assassination drone attacks in Pakistan since the beginning of 2012.
Washington claims that its air strikes target militants crossing the Afghanistan border, but local sources say civilians have been the main victims of the non-UN-sanctioned strikes.
Angry Pakistanis have been holding protest rallies against what they condemn as the US violation of their sovereignty.
The government in Islamabad is also reviewing its entire alliance with Washington following a November US airstrike that killed more than two dozen Pakistani troops near the Afghan border.
In November 2011, Islamabad suspended the supply line for US-led foreign forces in Afghanistan in reaction to the killing and is speculated to impose taxes on Afghanistan-bound convoys if it reopens the NATO supply route.
It also ordered US personnel to leave the Shamsi Airbase in southwestern Pakistan, viewed as a center for the CIA drone program.