North America
Syria
World News
Great Satan US-Backed SDF Cracks Down on Uprising in Raqqa
The US-backed Syrian Democratic Forces (SDF) suppressed a protest rally held by civilians in Raqqa as Washington sent a military convoy to the province.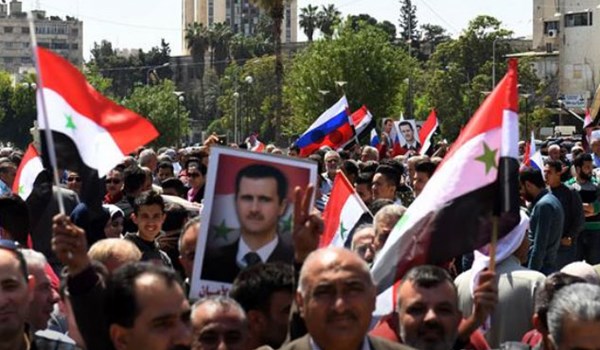 Local sources reported on Friday that a large number of people from Raqqa city gathered in Seif al-Dolah district on Thursday against the SDF measures in the region.
They added that the SDF militants fired at the protestors to disperse them and detained over 20 people.
The sources said that the civilians in the Western parts of Raqqa city hoisted the Syrian government's flags over the electricity pylons and printed graffiti on the walls near al-Ba'ath dam in the village of Kadiran, calling for Raqqa's liberation from the SDF occupation.
Meantime, the Arabic-language al-Manar news channel reported that a US military convoy, accompanied by the SDF, is moving from Northern Deir Ezzur towards Raqqa province.
In a relevant development last Friday, large groups of people in Eastern Deir Ezzur held protest rally against the Syrian Democratic Forces, while a new round of infighting started among the SDF forces after rifts widened among the militias, media activists said.
The activists reported from Deir Ezzur on Friday that a large number of civilians in the town of al-Kasrah in Eastern Deir Ezzur staged rally against the SDF measures, corruption and hoarding fuel.
They added that the SDF tried to suppress the protest rallies by closing the roads leading to the town and arresting people.