Human Rights
Great Satan US Chemical Arsenal Threat to Global Peace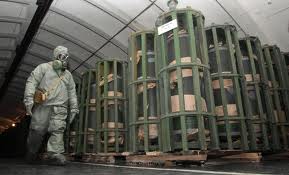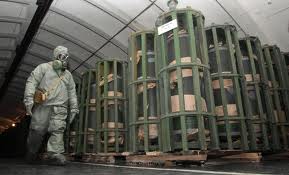 Iran has lambasted the United States for non-compliance with elimination of its chemical arsenal, stressing that chemical weapons are a 'threat and danger' to the global peace and security.
Addressing the 67th Session of the Executive Council of Organization for Prohibition of Chemical Weapons (OPCW) in the Hague, the Netherlands, on Tuesday, Iran's Permanent Representative to the OPCW Kazem Gharib-abadi said as the international community was preparing itself for the April 29, 2012 deadline for the global chemical disarmament, Washington's efforts to maintain its stockpiles of chemical weapons have deferred the materialization of this ideal for another decade, Presstv reported.
Gharib-abadi said, "Future generations will strongly criticize us for the failure to completely abolish chemical weaponry."
The Iranian envoy also lashed out at the US for restricting Iran's chemicals trade, stressing that such attempts contravene the Chemical Weapons Convention (CWC) and could possibly undermine its authority and credibility.
Gharib-abadi described Washington's continuing and systematic violation of commitment to CWC 'a matter of considerable global concern' and called on OPCW Director General Ahmet Uzumcu and the Technical Secretariat of the OPCW to deal with such defiant conducts.
He also put the complete annihilation of all chemical arsenals and the materialization of a world free from chemical warfare as the most significant priorities of the OPCW.
Over 300 attacks, using more than 3,000 tons of chemical weapons, were carried out against Iran in the course of the Iran-Iraq War of 1980-1988. The former regime of slain Iraqi dictator Saddam Hussein imposed the hostilities on the Islamic Republic, enjoying major support from the Western powers, including the United States. 
The nerve and mustard gases used by Iraqi army affected nearly 100,000 Iranians, killing one in every 10 of them. About 5,000 to 6,000 Iranians are still receiving medical treatment for the painful effects.