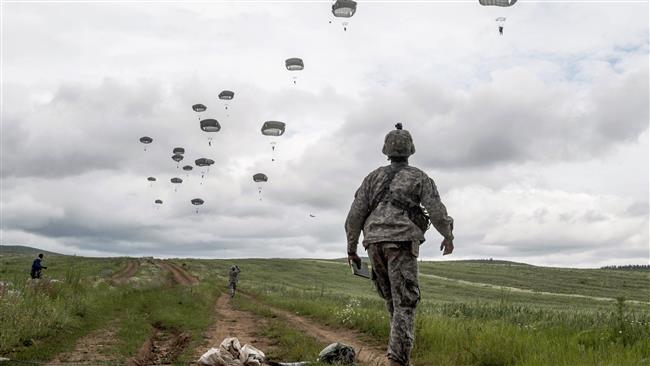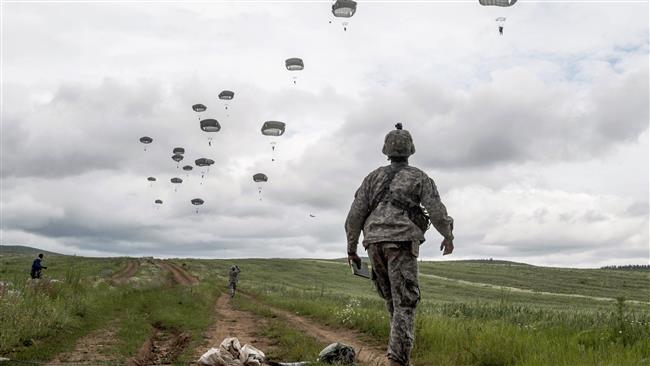 US forces have carried out a series of ground and air raids against a village in the Yemeni province of Bayda, killing a total of 57 people, among them civilians.
US paratroopers parachuted in Bayda's Qifah district and raided the Yakla village there, with some 30 aircraft such as Apache helicopters and drones taking part in the operations.
Saudi media said 16 civilians, among them women and children, lost their lives in the US assault.
Reports said the rest of those killed were militants with the al-Qaeda terror group, including three of its ringleaders.
"The operation began at dawn when a drone bombed the home of [al-Qaeda ringleader] Abdulraoof al-Dhahab and then helicopters flew up and unloaded paratroopers at his house and killed everyone inside," an unnamed local told AFP.
The Lebanese al-Mayadeen television channel reported that a US soldier was also killed during clashes with militants.
Two years ago, US troopers conducted a similar operation in Yemen's Hadhramaut Province to allegedly save an American reporter who was held captive by al-Qaeda. However, the operation was unsuccessful and left the correspondent dead.
Separately on Sunday, Saudi fighter jets mistakenly bombarded positions held by Riyadh's own mercenaries in Bayda Province.
Arabic-language al-Masirah television network quoted an informed military source as saying that the Saudi warplanes had also targeted homes in Bayda's al-Quraishyah and Sharyah neighborhoods.
Similar Saudi air raids were also carried out in the districts Harad and Nasim in Hajjah Province as well as the Sirwah neighborhood of Ma'rib Province.
The Saudi jets further targeted al-Amri district of Ta'izz Province with cluster bombs.
Elsewhere, in Shabwah Province, a large number of Saudi mercenaries were killed and injured in the Yemeni army's rocket attacks.
Additionally, 50 Saudi mercenaries, among them foreign nationals, were killed and injured in clashes with the Yemeni army forces in the port city of Mokha and Dhubab district, both situated in Ta'izz Province.
Three rocket attacks also hit downtown Zanzibar in Abyan Province.
The Riyadh regime has been incessantly pounding Yemen since March 2015 in a bid to reinstall the country's ex-government and crush the Houthi Ansarullah movement.
The Houthis and the Yemeni army have been defending Yemen against the Saudi offensive for almost two years.
The military aggression has claimed the lives of over 11,400 Yemenis, including women and children, according to the latest tally by a Yemeni monitoring group.
One US soldier killed, three injured in Yemen raid
Later on Sunday, US military announced that one US soldier had died and three were injured in the Yemen raid.
"We are deeply saddened by the loss of one of our elite service members," said General Joseph Votel, commander of US Central Command in Tampa, Florida, AFP reported.
The American military officials added that the name of the deceased soldier would be withheld until relatives have been notified.