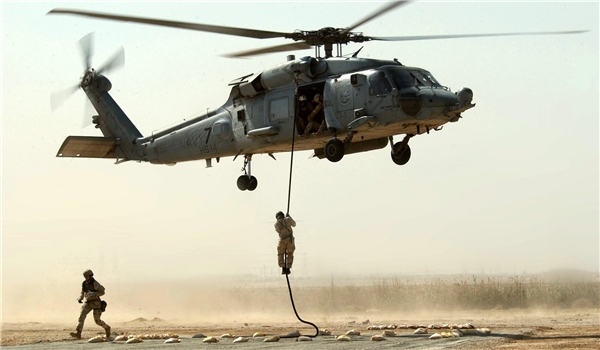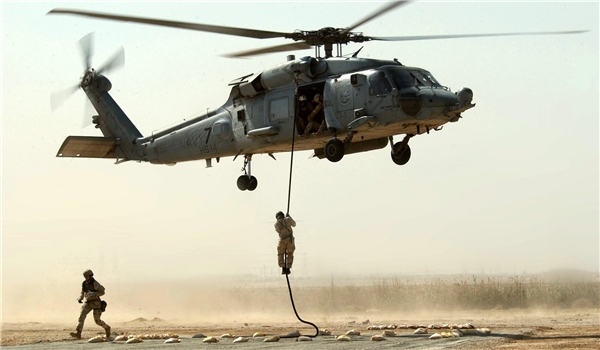 The US forces have intensified their heliborne operation to evacuate ISIL commanders from Deir Ezzur following the Syrian Army troops' advances in the depth of Badiyeh (desert) toward Deir Ezzur in several fronts, the Syrian Observatory for Human Rights (SOHR) reported on Sunday.
The SOHR said that a US-led coalition helicopter landed in al-Tabni region in Western Deir Ezzur yesterday taking away a number of European members of the ISIL to unknown destinations.
It pointed to intensifying US heliborne operations in Deir Ezzur province and said that Washington might be taking away the agents it once entered in the ISIL structure or the terrorist group's commanders have possibly called on the US to evacuate them from the region.
The Arabic-language al-Hadath news reported on Saturday that the US-led coalition forces carried out another heliborne operation in Badiyeh (desert) of the town of Albu Leil in the Southeastern territories of Deir Ezzur, evacuating six families of the ISIL terrorists.
Al-Hadath further said that the family members of the commander of ISIL's Hasaba (security-monitoring forces) Abu Khazimeh Maqrebi were among the evacuated families.
Al-Hadath pointed out that it was the US forces' second heliborne operation in the last 48 hours in Albu Leil Badiyeh to take away terrorists.