Human Rights
North America
World News
Great Satan US deports nearly 400 migrant children under COVID-19 rules
US immigration officials have deported nearly 400 migrant children who were detained at the US-Mexico border in the past two weeks to purportedly limit the spread of the coronavirus, according to government data.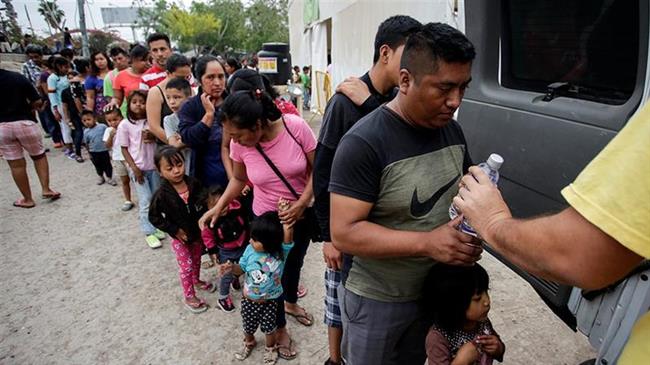 Under new rules implemented on March 21 by President Donald Trump's administration, US officials can quickly deport undocumented children and their parents or legal guardians without standard immigration proceedings.
Since the new procedures took effect, US border officials have expelled 377 minors to Mexico, Guatemala, Honduras and El Salvador, according to the government data seen by Reuters.
Overall, nearly 7,000 migrants were expelled since the new rules were implemented.
Before the coronavirus pandemic, unaccompanied minors detained at the US-Mexico border were placed in facilities run by the US Department of Health and Human Services (HHS).
As of April 8, more than 398,000 people have been confirmed with the coronavirus in the US, with nearly 13,000 deaths, according to a Reuters tally.
The United States has by far the most known COVID-19 cases with nearly twice as many as Spain and in Italy, but fewer deaths than in the two hardest-hit European nations.
New Trump rule would limit legal immigration to US The administration of US President Donald Trump has announced a sweeping rule that would limit legal immigration.
Trump said last month that migrants seeking to enter the US illegally could spread the coronavirus in the country, a problem that he said justified swiftly deporting them without a legal process.
Trump has made toughening immigration policies a central tenet of his presidency and has vowed to build a wall along the US-Mexico border to combat illegal immigration and drug trafficking.
Anthony Enriquez, who directs a program for unaccompanied children at Catholic Charities Community Services in New York, told Reuters the current treatment of minors "coincide with a long-term goal of the Trump administration" of quickly removing all migrants apprehended at the border.