Iran
Great Satan US fears nightmarish conflict with Iran in Persian Gulf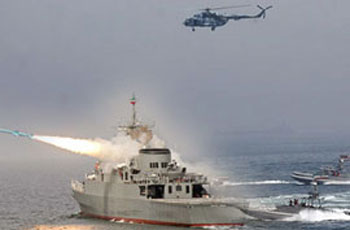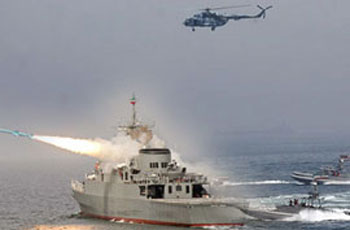 The US and Middle East analysts have described Iran's new naval capabilities to strike American warships in the Persian Gulf as a "nightmare" scenario for the US navy.
"Some [US] Navy ships could find themselves in a 360-degree threat environment, simultaneously in the cross hairs of adversaries on land, in the air, at sea and even underwater," leading US daily The Washington Post reported Friday, quoting "a Middle Eastern intelligence official" that helps coordinate Persian Gulf strategy with his American counterparts.
"This is a scenario that is giving people nightmares," the report added, quoting the unnamed official on the strategy for reacting to possible Iranian strikes on US warships in case a clash erupts in the Persian Gulf. The official, says the Post, spoke on condition of anonymity.
Pointing to a Pentagon decision to send more ships to the Persian Gulf in response to concerns expressed by Iran's Foreign Minister Ali Akbar Salehi, describing the presence of US warships in the area as a "real threat" to regional security, The Post cites its sources to argue that Iran's ability to inflict "significant damage" on American naval forces is "substantially greater" than it was a decade ago.
The report then cites a US Defense Department study in April, warning that Iran had made gains in the "lethality and effectiveness" of its arsenal, which "now includes ballistic missiles with 'seekers' that enable them to maneuver toward ships during flight."
The Pentagon's April assessment also cautions on Iran's "steady progress in developing ballistic missiles capable of striking targets in Israel and beyond," the Post notes.
According to the report, Iran's growing naval capabilities have led some American military experts "to question the wisdom of deploying aircraft carriers and other expensive warships to the (Persian) Gulf if a conflict appears imminent."
It then quotes a 2009 study by the US Naval War College, which warns of Iran's increasing ability to "execute a massive naval ambush" in the Strait of Hormuz, a narrow waterway dotted with small islands and inlets and "perfectly suited for the kind of asymmetric warfare preferred by Iran's commanders."
Although, the new US warships are equipped with multiple defense systems, "such as the ship-based Aegis missile shield," Iran, according to the report, has sought to "neutralize the US technological advantages by honing an ability to strike from multiple directions at once." The Iranian naval strategy, it adds, "relies not only on mobile missile launchers, but also on new mini-submarines, helicopters and hundreds of heavily armed small boats known as fast-attack craft."
The Post then expresses fear that the small Iranian vessels can "rapidly deploy" anti-ship mines against hostile ships in the Persian Gulf "or mass in groups to strike large warships from multiple sides at once, like a cloud of wasps attacking much larger prey."
"It is a dilemma," says the Middle East intelligence official cited in the report. "When the [US] Navy ships are in the strait, they are vulnerable to attack. But if you were to take them away, the (Persian) Gulf (Arab) countries would feel more vulnerable. And already they feel very, very vulnerable."
American officials have announced new war games with regional Arab sheikhdoms in the Persian Gulf region, including the deployment of new radar stations and land-based missile-defense batteries in Qatar.
Meanwhile Iran's Navy Commander Rear Admiral Habibollah Sayyari reiterated on Tuesday that the country's naval forces are fully capable of providing security for the Middle East region.
Rear Admiral Sayyari also pointed out that Iran's Navy possesses all the required capabilities to conduct surface, submarine, aerial and missile operations aimed at safeguarding regional security.
Relying on efficient human resources, the Iranian Navy has enhanced the deterrence power and security of the region, he noted.