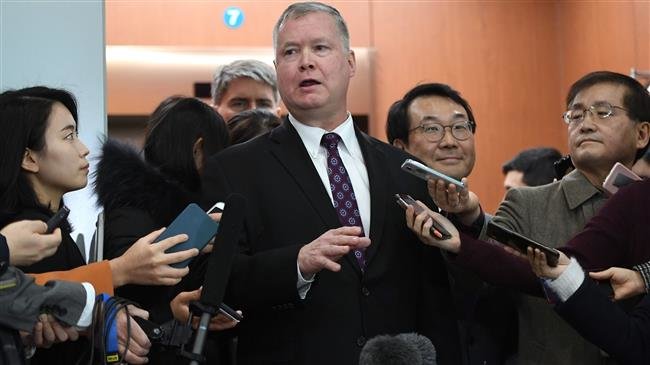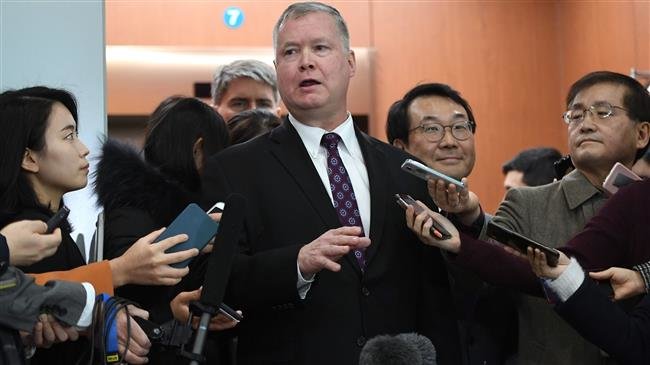 Washington will not ease its one-sided sanctions or those imposed by the United Nations against North Korea but it is still ready to try and build trust, says US Special Representative for North Korea Stephen Biegun.
Biegun was quoted as saying on Friday that the United States "has no intention of easing our unilateral or United Nations sanctions" against North Korea.
In a contradictory remark, Biegun said the US was willing to take steps to show its goodwill and to build trust with North Korea.
"However, within the context of the engagement that we have with the DPRK (North Korea), we are prepared to explore number of other things that could build trust."
Biegun linked the trust-building steps to the dismantling of North Korea's nuclear weapons. "We do have a number of initiatives we'd like to look at as we begin the process of denuclearization in North Korea."
On Thursday, US Secretary of State Mike Pompeo expressed hope for a second summit between President Donald Trump and North Korean leader Kim Jung-un.
The second summit has been scheduled for early next year, but it is unclear whether North Korea would agree to the holding of the summit.
The first meeting took place in Singapore in June, when a dialog was opened up between the two countries on denuclearization of the Korean Peninsula after months of exchanging military threats.
Since then progress has stalled, with both sides accusing the other of dragging their feet and acting in bad faith.
Trump has repeatedly said that as long as the pressure is on and the crippling sanctions are in place he is "in no hurry" to reach a denuclearization deal with North Korea.
Washington seeks the complete and irreversible dismantling of North Korea's nuclear weapons.
In return for wiping out its nuclear arsenal, North Korea wants the US to guarantee Pyongyang's security and to remove the nuclear umbrella looming all over and around the Korean Peninsula.
North Korean media say the denuclearization of the Korean Peninsula should also mean the removal of the US nuclear threat against North Korea.
North Korea has rejected the calls for the unilateral dismantlement of its nuclear arsenal.
Pyongyang emphasized that Washington needed to forget the "delusion" of forcing North Korea to give up its nuclear weapons "via pressure and oppression."