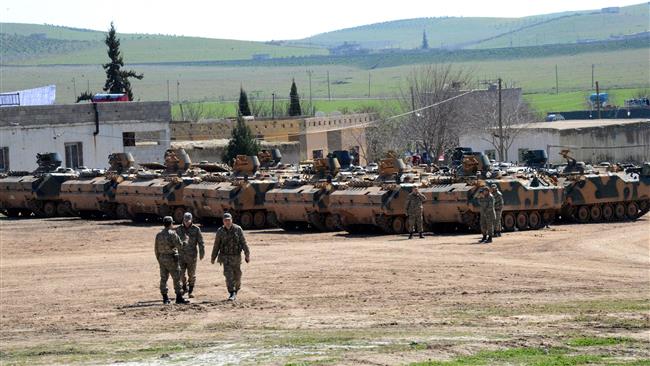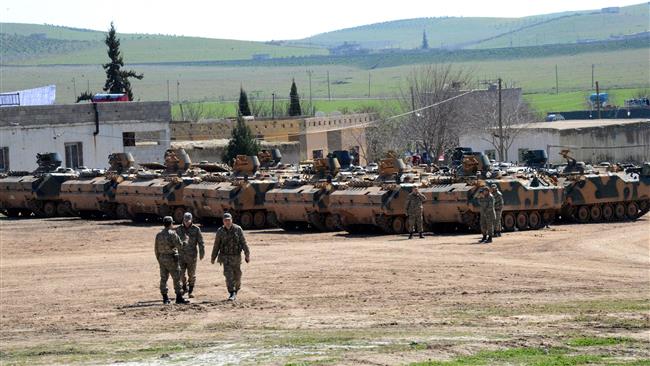 The United States is urging Turkey to deploy thousands of additional troops along its border with Syria to block the movement of Daesh (ISIL) terrorists, according to a report.
Pentagon officials have estimated that as many as 30,000 soldiers are needed to cordon off a stretch of 60-mile (100 km) frontier, the Wall Street Journal reported on Friday.
US officials say the border includes key transit routes that Daesh uses to move militants in and out of the war zone and into Europe.
Turkish officials have said that the Pentagon's numbers are extravagant, but acknowledged the need for tighter border control.
The US and Turkey agreed in principle in July on a deal for the border, but operational planning has stalled by discord.
The deal allows US military aircraft to use Turkish bases to launch airstrikes in support of allied militants fighting Daesh and the Syrian government. However, the plan has been slowed because of Russian airstrikes.
The US has deployed a number of attack aircraft to the Incirlik airfield in southern Turkey, military officials said last month.
The proposed operation has taken new urgency since the November 13 attacks in Paris and this week's downing of a Russian bomber by Turkey.
"The game has changed. Enough is enough. The border needs to be sealed," a senior US official said of Washington's demand to Ankara. "This is an international threat, and it's all coming out of Syria and it's coming through Turkish territory."
A senior Turkish government official told the Journal that Ankara is taking necessary steps to secure the frontier and that "there is no need to receive any kind of warning or advice from anyone, including our US partners."
US President Barack Obama recently ordered the deployment of dozens of Special Operations troops to Syria to "assist" militants operating on the ground.
Observers said the debate over the proposed joint operation reflects growing White House frustration with the failing US campaign in Syria.