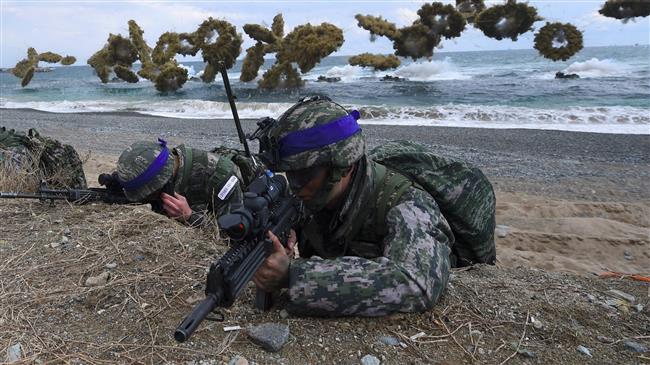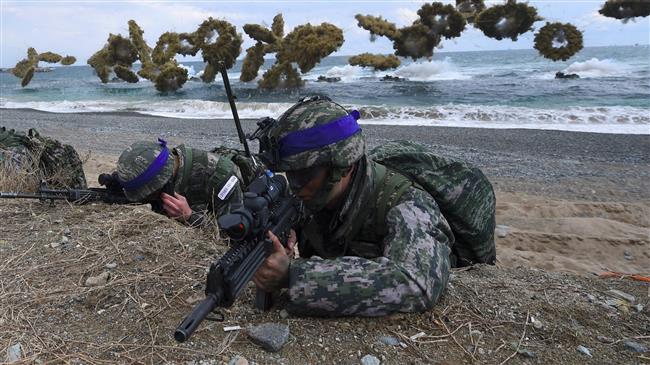 The United States and South Korea say their annual joint military drills will resume next month, despite a diplomatic thaw with North Korea, a move that risks irking Pyongyang ahead of a planned summit with US President Donald Trump.
The exercises, code-named Foal Eagle and Key Resolve, will involve some 23,000 American troops and more than 300,000 South Korean troops, the US Defense Department announced Tuesday.
"Secretary of Defense James Mattis and the Republic of Korea Minister of National Defense Song Young-moo have agreed to resume the annual combined exercises including Foal Eagle and Key Resolve which were de-conflicted with the schedule of the Olympic Games," Pentagon spokesman Col. Rob Manning said in a statement.
"The exercises are expected to resume April 1, 2018," the statement added.
"Foal Eagle" is a series of field training exercises with approximately 11,500 US troops taking part, together with 290,000 South Korean troops, while "Key Resolve" is a command post exercise using mainly computer-based simulations.
Washington and Seoul said the exercises would be "similar" in size to those of previous years.
"The UN Command has notified today the North Korean military on the schedule as well as the defensive nature of the annual exercises," South Korea's Defense Ministry spokesperson told reporters.
The US has warned that it will keep sanctions pressure on North Korea until Pyongyang takes concrete steps to end its nuclear program.
The annual military drills were delayed to avoid clashing with the Pyeongchang Winter Games in South Korea last month.
The large-scale exercises are a perennial source of tension between the two Koreas, with Pyongyang condemning them as provocative rehearsals for an invasion of the North.
With talks under way to set up a summit between South and North, followed by a proposed face-to-face meeting between Trump and Kim Jong-un, there was speculation that this year's drills might be scaled back to avoid derailing the discussions.
The United States has warned that it will keep sanctions pressure on North Korea until Pyongyang takes concrete steps to end its nuclear program. Pyongyang's program to develop nuclear weapons began in the 1990s and has frustrated successive US administrations.
Trump has previously ridiculed Kim as "Little Rocket Man", slapping wide-ranging sanctions on  Pyongyang and also leading a drive for international sanctions through the United Nations.
Nearly 30,000 US military personnel are stationed in South Korea, a legacy of the Korean War that ended with an armistice instead of a peace treaty.
The United States and North Korea were foes throughout the Cold War and fought on opposite sides of the Korean War from 1950 to 1953.